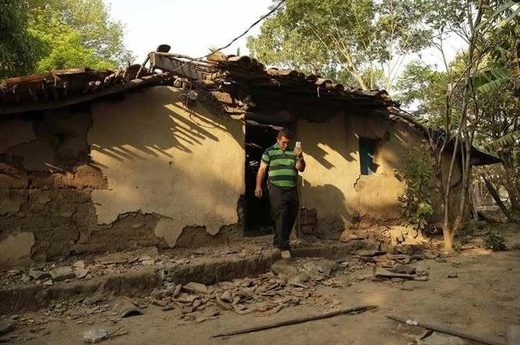 A swarm of earthquakes shook southern El Salvador on Sunday, damaging nearly 200 homes and touching off small landslides, but there were no reports of serious injuries or deaths.
The U.S. Geological Survey said at least nine quakes of magnitude 4.3 or greater struck the region beginning in the morning, including three of magnitude 5.2 to 5.6.
Civil defense director Jorge Melendez said at a news conference that 11 homes were destroyed and considerable damage was done to 180 more. Most of the structures affected were made of bahareque, a material composed of cane or sticks mixed with mud and straw.
The government was transporting tents to the zone to shelter residents left homeless.
An alert was declared for some municipalities in the departments of Chirilagua, San Miguel and La Union, and classes were suspended for Monday in those areas.
Melendez said one of the quakes unleashed landslides on a highway leading to Playa El Cuco, one of the most visited tourist beaches in the area.
USGS geophysicist Don Blakeman said the earlier quakes were likely foreshocks to the magnitude 5.6 event, which hit just after 1 p.m. local time. Its epicenter was located offshore in the Pacific, about 8 miles (12 kilometers) from the town of Intipuca, at a depth of 6 miles (10 kilometers).