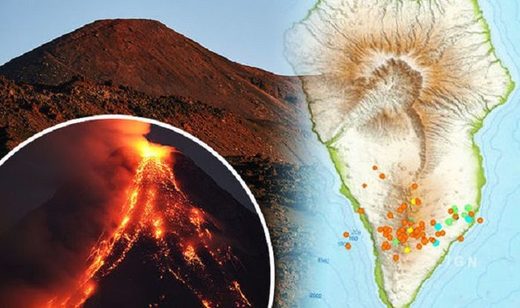 THE Canary Island of La Palma has been hit by another flurry of earthquakes once again prompting fears the deadly Cumbre Vieja could erupt - just four months after scientists recorded a swarm of more than 200 tremors.
The Spanish archipelago was struck by up to 70 small quakes, recorded between Monday and Wednesday, reaching between magnitude 1.5 and 2.6 on the Richter scale.
Andgovernment officials announced more quakes were felt between 3am and 6.30am this morning at magnitudes of between 2.1 and 1.5.
Most of them were located in the area of Los Canarios, in Fuencaliente, and in El Pueblo, Villa de Mazo, although they have also been registered in El Paso and Tazacorte.
The Canary Government has now stepped in and called for an urgent meeting to take place on Friday to discuss why the quakes are happening again and what might happen in the future.
The seismic activity is the latest to hit the Spanish islands, popular with British holidaymakers, after it was struck by a flurry of
earthquakes
in October last year.