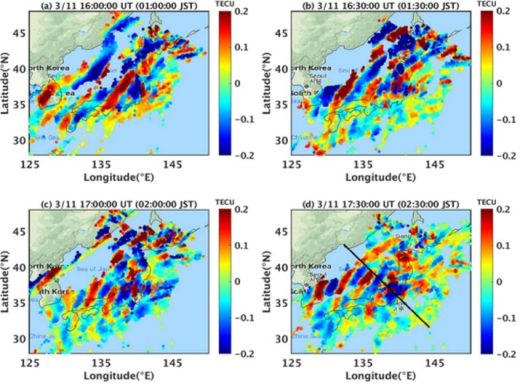 When the Earth trembles, even the edge of space moves. Researchers have known for decades that earthquakes and tsunamis send waves of air pressure to the very top of Earth's atmosphere. Up there, in
the ionosphere
, the waves scramble GPS signals and interfere with radio communications much like solar flares do. Earthquakes, it turns out, can mimic space weather.
A
new paper
published in the research journal
Space Weather
shows that earthquakes and tsunamis may, in fact, affect the ionosphere much more than previously thought.
"On 11 March 2011, a magnitude 9.0 earthquake occurred near the east coast of Honshu, Japan, unleashing a savage tsunami as well as unprecedented ripples at the space‐atmosphere interaction region," report the authors, led by Min-Yang Chou of the University Corporation for Atmospheric Research (UCAR) in Boulder, CO.
Using satellites and ground-based GPS receivers, Chou and colleagues took a close look at what happened to the ionosphere over Japan in the aftermath of the earthquake. As expected, it was disturbed. Surprisingly, though, the ionospheric disturbances didn't peter out after the initial quake and tsunami; they kept going for many more hours.
The reason:
Reflected
tsunamis.