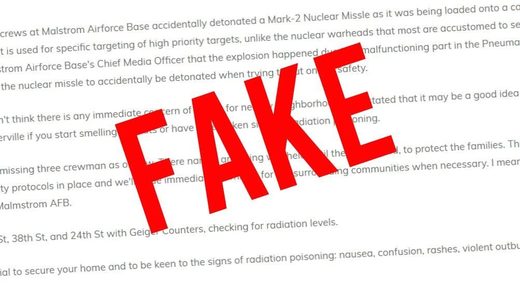 Although the source of the loud boom that was felt and heard in and around Great Falls on Saturday afternoon has not yet been determined, we do know that is was not the result of an accidental detonation of a nuclear missile from Malmstrom Air Force Base.
Hundreds of people reported hearing the loud boom in all areas of Great Falls and even beyond
; there has been speculation that it may have been a military jet breaking the sound barrier, a small earthquake, a meth lab explosion, or possibly even a "frost quake" (see below).
While those are all possible, we are confident in stating that the boom was not caused by a nuclear missile.
Someone used a website that lets people create their own "news articles" for humorous purposes in order to make a bogus article claiming that the boom was caused by an accidental detonation.
The article is riddled with typos, poor grammar, and false statements, such as that Air Force personnel "...can be seen walking 56th St, 38th St, and 24th St with Geiger Counters, checking for radiation levels."