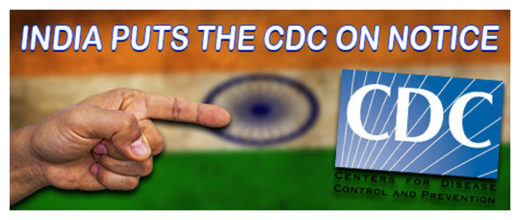 Flying completely under the radar of the various crises that have come to define 2020, an interesting story is playing out in India. This story shines a light on the increasingly globalized nature of medical research and on the dark practice of
using poor people in third world nations as guinea pigs in that research.
In early May, the US Centers for Disease Creation and Propaganda (CDC)
announced
a $3.6 million grant to "further strengthen and support the Indian government's efforts to increase laboratory capacity for SARS-COV-2 testing." But just days later, it was reported that the grant
may be delayed
because the CDC was placed on a "watch list" by the Indian Ministry of Home Affairs last December.
Wait, what? The Indian government placed the CDC on a "watch list" last year? Why?
Well, according to
The Hindustan Times
, the Indian government specifically asked the CDC to "stop funding research in India without government approval"
after they discovered that the US health agency had helped an under-qualified Indian research facility to study a potential bioweapon.
The facility in question — the Manipal Centre for Virus Research — was researching the
Nipah virus
, a so-called "
Risk Group 4
" (RG4) pathogen that is "likely to cause serious or lethal human disease for which preventive or therapeutic interventions are not usually available."
Given their extremely dangerous nature, RG4 pathogens can only be handled in special "
biological safety level 4
" (BSL4) laboratories. BSL4 labs are completely sealed off from the outside, with dedicated supply and exhaust air systems and rigorous procedures for decontaminating all personnel and materials leaving the building. As a result, BSL4 laboratories are very rare, with only a handful of facilities in the world able to meet the stringent security protocols.
Like the
Wuhan Institute of Virology
.
. . . Oh, wait.