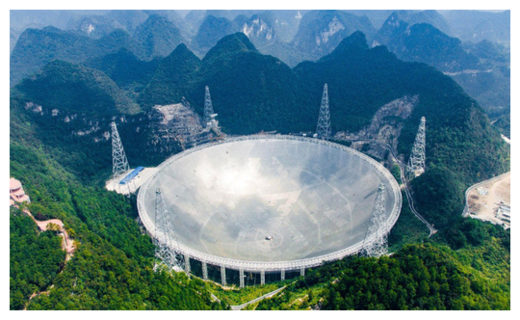 Is someone or something trying to contact earth?
China's Five-hundred-meter Aperture Spherical Radio Telescope (FAST) has detected a repeating fast radio burst (FRB) — mysterious radio signals from outer space — for the first time, Science and Technology Daily reported.
Scientists on the FAST project with the National Astronomical Observatories of China, part of the Chinese Academy of Sciences, revealed the news to China Daily on Wednesday.
The FRB originated some three billion light years away from Earth. Interference factors including aircraft and satellites have been eliminated and cross validation is being carried out, the scientists said.
FRB is one of the hottest topics in astronomy. It was not until 2007 when the first FRB was discovered by humans. Fewer than 100 FRBs have been detected internationally to date.
There is still no cohesive explanation for the origin of FRB in the international scientific community at present. FRBs mostly only appear once, which makes them very hard to track.