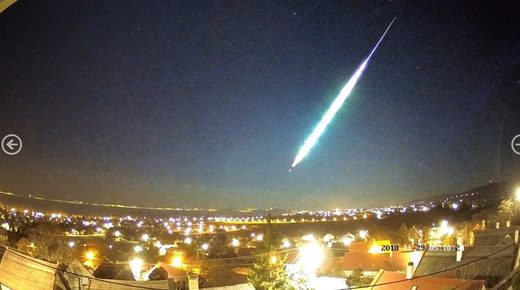 Stargazers were able to witness the breathtaking meteoritic debris firing up the skies in Hungary, Slovenia, Austria, Italy, Switzerland, Croatia, Slovakia and Germany.
The
fireball
shooting through the Hungarian sky on Thursday morning is scientifically known as a bolide, a meteorite fragment which bursts into especially bright flames once it enters the atmosphere.
Footage collected from several webcams located on the slopes of Veszprém
county captured the moment the astonishing meteor passed by Earth.
While the phenomenon only lasted a matter of seconds the cameras were able to record the moment the sky turned bright blue as the fireball made its appearance.
The bolide was also spotted in Vienna, where cameras filmed a cobalt blue streak cut through the early morning sky at around 4 am GMT.