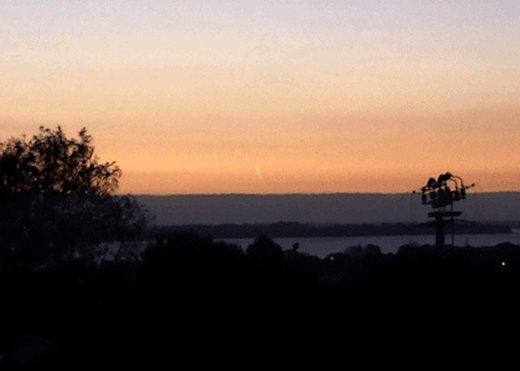 Intrigue is mounting following the sighting on Saturday of a mysterious bright light in the north west sky.
Times
staff member Clare McGillivray snapped this photo from her Beachlands home on Saturday night. At first she thought it was just the setting sun reflecting off a wispy cloud but wondered if it was a meteorite as it appeared to leave a large trail as it dropped through the sky.
"It took about 10 minutes from first sighting to disappear behind the clouds. During this time it grew from a squiggly line to a straight streak. It appeared to be falling out of the sky or maybe streaking across the atmosphere. Pretty amazing to see," she said.
And she wasn't the only one to have spotted the orange streak.
There were numerous comments from apparent witnesses on the
WeatherWatch.co.nz
site.
One wrote on the site on Saturday: "Strange light over West Auckland. So about 5.45-6.00pm this evening (30/04/16). I was working at Auckland hospital and happened to look out one of the windows facing towards west Auckland.