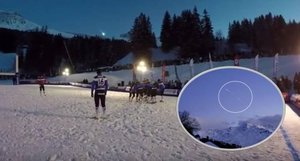 Tracking space rocks that reach Earth will give insight into the early Solar System
Scientists in France have launched an unprecedented campaign to catch shooting stars, an effort that will rely on thousands of volunteers to comb the ground for bits of space rock.
The programme already includes 68 cameras that scan the skies for meteors, which are seen when bits of asteroid, comet or other planetary material
streak through Earth's atmosphere
.
By the end of this year, some 100 cameras will blanket France
, organizers say. That would make it
one of the biggest and densest meteor-spotting networks in the world
.
"If tomorrow a meteorite falls in France, we will be able to know where it comes from and roughly where it has landed," says Jérémie Vaubaillon, an astronomer at the Paris Observatory and one of organizers of the system. Dubbed the Fireball Recovery and InterPlanetary Observation Network, or FRIPON, it was officially inaugurated on 28 May.