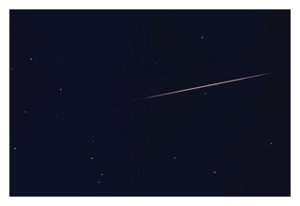 People across the Kimberley have reported seeing a bright fireball streak across the sky, inspiring awe and some fear.
"It was scary, because it came from the airport direction, and then we realised that it was probably space junk or a meteor," talkback caller Monica from Broome told ABC Radio.
"We spend a lot of nights with the kids lying out on trampolines watching shooting stars, but I've never seen anything like that."
The fireball was seen across a wide area of north western Australia just before 7pm on Tuesday.
Camped by the Fitzroy River, Cybil called ABC Radio to describe the awe-inspiring sight.
"Huge, big; it was the brightest thing I've ever seen. It was huge, white, massive. I've never seen anything so big in the sky," she said
About 130km south of Broome, Randal was camped on a cliff overlooking the ocean.
"It just seemed to come right up out of the sea, and then shot right across the Barn Hill camping area where we are," he said.
"My wife was sitting opposite me and she spun around, and we watched it disappear over inland somewhere.
"It was just so, so bright. We were wondering whether one of those missiles had come down from North Korea.
"We've seen shooting stars before, but this just outdid anything."