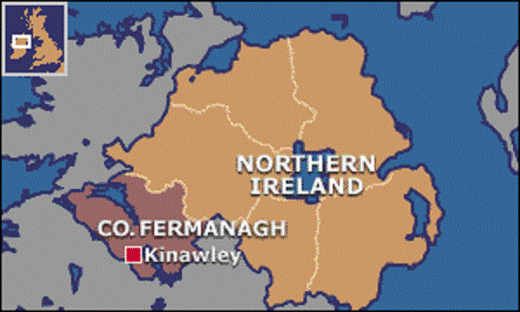 On February 13th, 2001, a strange airplane crash was observed in the Southwest corner of Northern Ireland, less than a mile away from the border with the Republic of Ireland. There was no airplane, but despite credible witnesses of what may have been an impact event, the story was quickly squashed as a genuine mistake, and then as a hoax. The manner in which this story was squashed with slashing diminutives begs the question: If this is indeed a cover-up, then why?
BBC News, February 13, 2001
Aircraft crashes on mountain

Police in Northern Ireland are investigating reports that a light aircraft has crashed in County Fermanagh.

It is understood that a plane came down at Benaughlin Mountain near Kinawley shortly after 1800 GMT.

It is believed helicopters are being used in the rescue effort.
One day later the same site had the following report:
Tuesday, 13 February, 2001, 20:56 GMT, BBC News
Mystery surrounds 'plane crash' reports

Mystery surrounds the source of flames and smoke in the sky over County Fermanagh which has sparked a major search operation.



About 12 people described seeing flames and smoke on the side of the Benaughlin Mountain, near Kinawley, on Tuesday night.

Paul McCaffrey, who raised the alarm with a friend, is convinced he saw something in the sky with smoke billowing from it.

"I saw a dot at the front and a black trail of smoke leading down at an angle towards the mountain," he said.

A British Army helicopter using heat sensitive equipment also flew over the area.

But following more than three hours of extensive searches, nothing was found.