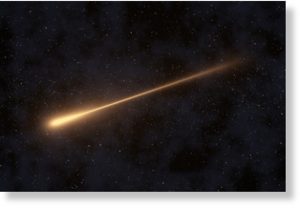 A sighting of a fireball blazing its way across the sky near Annan has prompted more reports
An appeal by the UK Meteor Observation Network (UKMON) for sightings at about 5.15 pm last Wednesday prompted an account from someone driving from Eaglesfield to Annan.
Adding to the reports, Helen Carruthers said: "I saw a very bright white light for a few seconds as I was walking the dog in Ecclefechan on Wednesday at the time stated, and it travelled from left to right, then just disappeared."
Ed Woodman has also added his own account of the sighting. He said: "At approximately 5.15 pm I was approaching the the Tesco roundabout from Eastriggs when I noticed a light object with a faint trail behind it, shooting across the sky from east to west "It was moving at tremendous speed and initially I thought it was a low flying fighter jet. "But then, as it suddenly flared bright white, it disappeared."
Mark Toner from Dumfries Astronomy Society says November was a busy month for meteor sightings. Addressing the local sightings, Mark said: "If it was west to east I'd say they'd seen the International Space Station. "But the fact it's going east to west — there's very few things that do that in the evening like that and then disappear, because they're heading towards the sun."