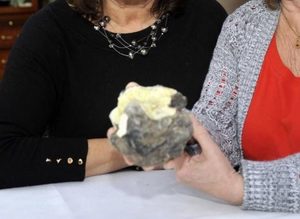 This mysterious rock like object is causing quite a stir in Lowercroft.
Now the couple in whose garden it was found are hoping someone may be able to shed some light on what it is — and where it came from.
Pauline and Norman Pollard were baffled to discover the striking black and yellow material in their garden, just days after hearing a loud noise.
Initially the couple thought
it may be a meteorite
- and don't know whether the noise is related to the find.
Mr Pollard, who lives in Lowercroft Road, aged 74, said: "
We found it in the garden after we had heard a loud bang or thump in the middle of the night
, it was like a car door banging."