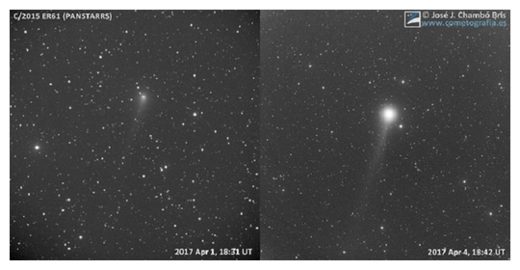 2017 may well go down as the year of the binocular comet.
Three have been easy catches, and it's only the start of April:
45P/Honda-Mrkos-Pajdusakova
,
41P/Tuttle-Giacobini-Kresak
and
Lovejoy (C/2017 E4)
.
Now there's a fourth. Overnight, PanSTARRS (C/2015 ER61) joined the club.
Discovered two years ago on March 15th by the Pan-STARRS 1 telescope on the summit of Haleakalā, it was a faint 21st-magnitude midge. But how it's bloomed! By late March and the start of April, the comet had brightened to around magnitude +8.5 while puttering across Sagittarius and Capricornus low in the southern sky before dawn.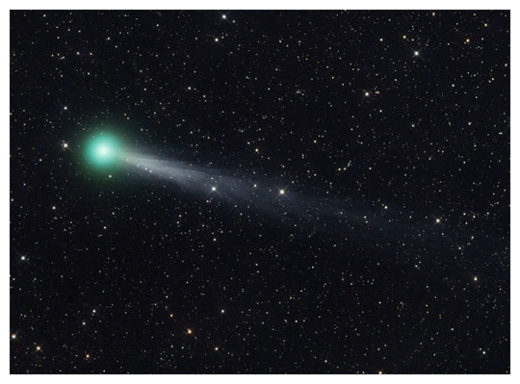 Then it happened. On April 4th, comet observer Juan José González Suárez reported a possible outburst to magnitude +7.4. This was confirmed, both visually and photographically, by several observers including myself early
this morning
. It's now as bright as magnitude +6.5, a leap of two magnitudes practically overnight! Although the specific cause of the outburst isn't known, it's likely that some sort of outgassing or disruption on the comet's surface exposed fresh ice to sunlight, initiating a new wave of vaporization.