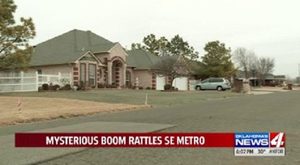 Some people in the S.E. metro reported a large "boom" along with a shock wave Monday evening.
"Well, inside the house it sounded like maybe an M80 going off or dynamite. It was loud," said John Smith. "Vibrations. Big boom. First the big boom and then vibrations."
His neighbor, Donna Hood, was also shaken up.
"We thought we'd had an earthquake and we waited and looked on the news and everywhere else and nobody posted anything. So, we had no idea what it was," said Hood.
Data didn't show any earthquakes in the area and authorities say there were no explosions either.