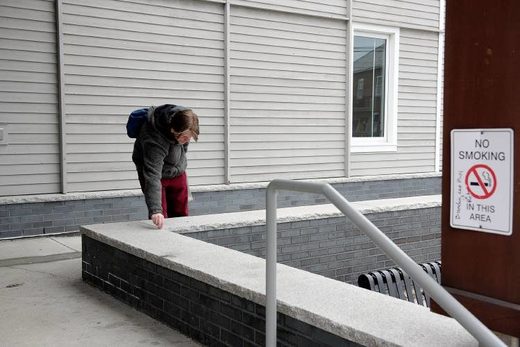 The City Council voted unanimously on Wednesday to adopt a smoking ban in Lebanon's parks and outside city-owned buildings.
The ban, which includes chewing tobacco and e-cigarettes, is scheduled to take effect on July 1.
It forbids smoking in about a dozen public areas throughout Lebanon, but city officials say they're planning to build several designated smoking spaces.
"What we are not saying is that smoking is going to be banned everywhere or that smokers do not have the right to smoke," Paul Coats, Lebanon's director of recreation and parks, cautioned the council on Wednesday night.
Coats said his department has been considering a smoking ban for years, but wanted to wait and see how other communities implemented similar restrictions. With Wednesday's vote, Lebanon joins Claremont and Newport, two other Upper Valley communities that ban smoking in some capacity on public property.
The measure was brought forward as a result of complaints about the appearance of City Hall and the Kilton Public Library, Coats said. Both locations see heavy traffic from smokers, he said, partially because they host major bus stops for Advance Transit and are within busy downtown hubs.
Over time, he said, people have grown tired of navigating through smoke to enter either building.
Under the ordinance passed on Wednesday, smoking will be banned on most city properties:
Civic Park, Eldridge Park, Pat Walsh Park, Logan Park, Riverside Community Park and Lebanon Memorial Pool all will be subject to complete bans.
Smoking also will be forbidden on the grounds of Kilton Public Library and the Lebanon Library. Parts of Colburn Park, the Lebanon Mall, Fellows Hill Park and the Storrs Hill Ski area will be smoke free, along with the Lebanon Junior High School fields and Elks Field during city-sponsored events.
The ban also will be in effect within 30 feet of the windows and doors of city-owned buildings.
Coats said the city is exploring the creation of several smoking-designated areas either within or nearby the affected properties. Sites recommended for such areas include the northeast edge of Colburn Park, behind the City Hall's AT stop; and behind the existing bus stop at the Kilton Public Library.
There's also a chance smokers could continue to utilize the Lebanon Mall, Coats said, adding he intends to discuss with local businesses where smoking areas would best fit.
Those found violating the smoking ban could be met with a fine, Coats said, adding he wanted the passed ordinance to have "teeth" if someone refused to follow it.
The ban calls for a $25 fine for first offenders, followed by a $50 fine for a second offense and $100 after that. Police also have the right to remove anyone from a park found in a no-smoking area.
However, Coats said, city staff expect to have a cordial relationship with smokers and he predicted it would be unlikely police would be called on to issue fines.
Of the few people who spoke during Wednesday's meeting, all were in favor of the ban.
"As a frequent user of the Kilton library and bus stop there, I am excited to see this ordinance put forward and hopefully passed," Lebanon resident Percy Young said.
Young said he's occasionally tried to speak with people smoking outside of the library, only to be "ignored, laughed or cursed at." When he tried reporting the activity to library staffers or police, he was told they couldn't do anything about the smokers.
"I was really kind of frustrated because (smoking) is usually there, and I've seen several people picking up cigarette butts, but (butts are) there all the time," Young said.
Resident Alan Schnur said he's worried about children who are subject to secondhand smoke in Lebanon's parks. Those children, he said, cannot easily speak up and oppose it.
"This ordinance will also serve to protect the children who are not able to do that themselves," he said.
The smoking ban also was met with approval from Dr. Robert McLellan, who helped Dartmouth-Hitchcock Medical Center become a smoke-free campus in 2008. He said the measure has been successful in preventing smoking in certain areas and also in helping people quit.
"First of all, before we did this at Dartmouth-Hitchcock we actually surveyed our employees. The vast majority of people don't smoke," he said, adding the few who do usually want to quit.
He suggested the city develop a card similar to those used at the hospital, informing people of the smoke-free policy and directing them to help.
Coats said he's working on several ideas to spread word of the ban before it comes into effect. He'll also soon begin the process of installing signs for temporary smoking areas, and said more permanent structures could someday take their place.