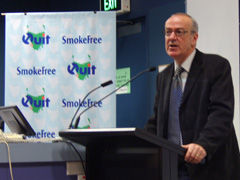 There's been a call to license smoking, and to have a system similar to the one proposed for gamblers, to limit the number of cigarettes people can smoke in a set time.
The Sunday Age
reports this morning Professor Simon Chapman, an anti-smoking campaigner from the University of Sydney says a smoking ban could be a reality within 10 to 15 years, and he believes a licensing scheme, using a swipe card for authorised smokers, would pave the way.
The call for tough new measures comes from the anti-smoking lobby as the federal government's plan for plain packaging for cigarettes is expected to be challenged in the High Court.
Proponents of the idea argue the six billion dollars lost in revenue from smoking would easily be recovered by the 31 billion dollars spent on health costs caused by smoking.
But a spokeswoman for British American Tobacco, Louise Warburton says forcing smokers to obtain a licence could lead to an increase in the illegal tobacco trade as smokers try to bypass bans.