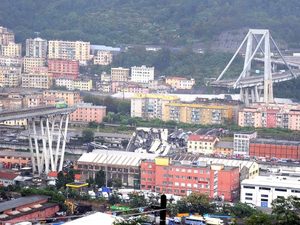 14 August 2018: Morandi Bridge in Genoa, Italy, collapses during a storm, killing 35 people
If the doors of perception were cleansed, everything would appear to man as it is, Infinite. For man has closed himself up, till he sees all things thro' narrow chinks of his cavern.

'The Marriage of Heaven and Hell'
- William Blake
Recent Comments
"The world's dumbest and/or most deceitful people have always been those who equate 'I defend X's right to speak' with 'I defend X and their...
---
R.I.P. Aretha Franklin....[Link]
---
The head of Russia's space research corporation has spoken about its latest planned projects and noted that cooperation with the United States...
---
Perhaps Turkey is aligning with the SCO, and this is a prelude to an exit from nato? Erdogan, whether the MO, and motivation is right or wrong,...
---
Still no major terror attack anywhere in the West so far this year. Al-Qaeda/ISIS apparently 'evolved' from taking down skyscrapers/the Pentagon,...