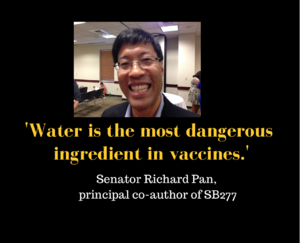 California is no stranger to controversy. In February of 2016,
Natural News
reported on The Golden State's highly debatable approach to enforcing vaccination. California's
strict mandatory vaccination laws
have been a subject of contention for quite some time now, and it seems that
the state is only seeking to grow its power over parents and families.
A new bill, SB-18, has been introduced by
Senator Richard Pan
, seeking to give the government the right to seize children from their parents if they are making medical decisions that the state feels are "not in the child's best interests."
Dr. Pan, of course, was also behind the state's current mandatory vaccination bill, SB-277. When taking both bills into consideration, one cannot help but wonder if they will be targeting parents who have unvaccinated children, or perhaps
those who homeschool their kids
. One thing is clear: The state of California is all but trying to
outlaw dissent
.
SB-18 is still in its early stages and will not be enacted until 2022, if it somehow manages to pass. While that may seem far off in the future, it is only a few short years away.