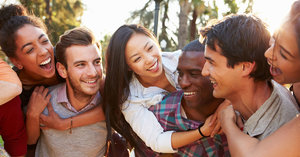 Most of us enjoy, if not even prefer, spending time with others rather than spending all of our free time in social isolation. Some studies even suggest that social connectivity plays a significant role in our overall health and well-being (
1
,
2
).
So what is it then that drives this preference to be with others, and similarly, what contributes to the social indifference or even social aversion seen in some neurologic disorders like autism spectrum disorder and schizophrenia? It looks like, at least in part, it's pathogenic microbes like bacteria and viruses
.
Exciting new research suggests that our immune system may drive our preference for social interactions, and these new findings raise fundamental questions about human behavior. There's a quote that's been circulated widely among researchers studying the interactions between microorganisms and humans that I read in
an interview with Justin and Erica Sonnenburg:
"Humans are elaborate culturing vessels that have evolved to propagate and pass on these micro-organisms," and this new research, published last month, suggests that even our behavior may have evolved as a means of supporting the spread of microbes.
There are a few reasons this research is so significant.