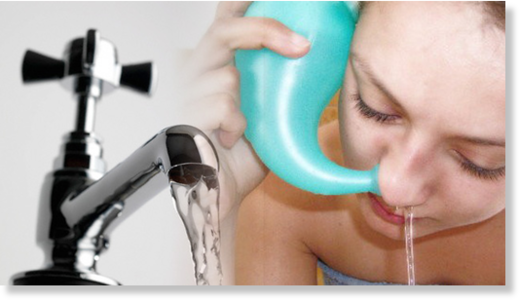 The Food and Drug Administration (FDA) has
issued a warning
about neti pots, which are nasal irrigation tools that look like genie lamps.
Along with other
nasal irrigation systems
, these devices use a saline, or saltwater, solution to treat congested sinuses, colds, and allergies. They're also used to moisten nasal passages exposed to dry indoor air.
The concept of nasal flushing is pretty simple. The spout of the neti pot is placed in one nostril and the head is tilted at about a 45 degree angle so the other nostril is lower. The pot is held high and the salty water flows in one nostril and out of the other, flushing out any debris with it.
These nasal rinse devices — which include bulb syringes, squeeze bottles, and battery-operated pulsed water devices — are usually safe and effective products when used and cleaned properly, says Eric A. Mann, MD, PhD, a doctor at FDA.
But using the wrong type of water for irrigation and/or improper cleaning of the devices can lead to serious infections - including some that are deadly, including
Naegleria fowleri
- better known as the
"brain-eating" amoeba
.
Researchers believe that two deaths in 2011 were caused by brain-eating amoebae that made its way into the victims' tap water, reports
CBS
: