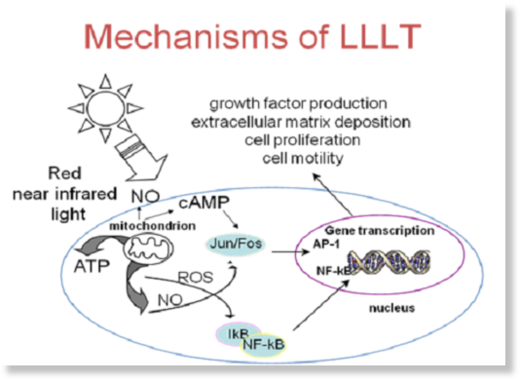 The use of low levels of visible or near-infrared (NIR) light for reducing pain, inflammation and edema, promoting healing of wounds, deeper tissues and nerves, and preventing tissue damage has been known for almost forty years since the invention of lasers.
Originally thought to be a peculiar property of laser light (soft or cold lasers), the subject has now broadened to include photobiomodulation and photobiostimulation using non-coherent light.
Despite many reports of positive findings from experiments conducted in vitro, in animal models and in randomized controlled clinical trials, LLLT remains controversial. This likely is due to two main reasons; firstly, the biochemical mechanisms underlying the positive effects are incompletely understood, and secondly, the complexity of rationally choosing amongst a large number of illumination parameters such as wavelength, fluence, power density, pulse structure and treatment timing has led to the publication of a number of negative studies as well as many positive ones.
In particular, a biphasic dose response has been frequently observed where low levels of light have a much better effect than higher levels.