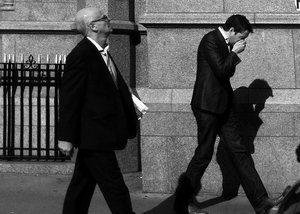 As governments move forward in their attempts to force their citizens into vaccination, whether they want it or not, researchers are now moving forward with what may become the future of forced vaccination - transmissible vaccines.
This is an area of research that scientists have been interested in for quite some time but that is only now becoming feasible.
The idea behind these vaccines are that they would themselves be infectious, passing along the vaccine from one person to another as if it were a virus.
Thus, it would be possible to vaccinate a small number of people manually, but as a result of the vaccine's self-transmission, actually vaccinate a very high number of people.
According to PNAS
(Proceeding of the National Academy of Sciences of the United States of America),
"several recombinant, transmissible vaccines are in development for wild animal populations, including one to protect wild rabbits against a fatal viral infection and another to prevent deer mice from carrying a virus responsible for a deadly human pulmonary disease."