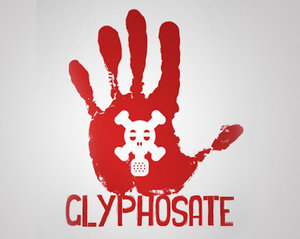 Glyphosate, the active ingredient in Monsanto's signature herbicide RoundUp, has become a pervasive toxin in the environment and food system.
Many foods
are now made with RoundUp Ready soy, corn, canola, and some of these same crops are fed to factory farmed animals for meat and dairy products.
This ubiquitous presence of glyphosate is not all that surprising, considering that U.S. farmland has been drenched with more than
2.6 billion pounds of glyphosate since 1992
. Many grain and seed crops receive a dose of RoundUp just before harvest in a process known as desiccation.
Unfortunately, what all this means is that our bodies are receptacles for a chemical that the World Health Organization has
labeled a "probable carcinogen."
In 2014, a shocking study found the
presence of glyphosate in the breast milk of American mothers
, with high levels found in three out of 10 samples. Monsanto soon
funded and authored a follow up study
which, unsurprisingly, found no glyphosate in breast milk.