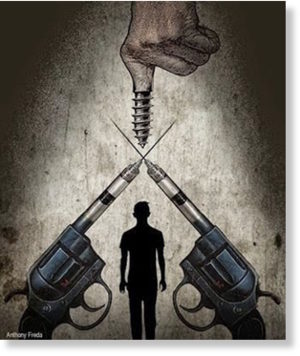 The Vaccine Culture War is heating up.
1
Ground zero is America, Europe and other economically developed countries, where the pharmaceutical industrial complex is raising an iron fist to protect multibillion-dollar profits by disempowering the people.
2,
3,
4,
5,
6,
7,
8
In America, professors and doctors in academia and government are profiling parents by class and race to shame and discredit those challenging vaccine orthodoxy. Elite members of the highest paid professions in our society are using academic journals and mainstream media to openly preach fear, hate, prejudice and discrimination against people who disagree with them about vaccination.
Law Professor: Mothers of Unvaccinated Children Are Criminals
"When it comes to vaccines, rich parents get away with child neglect," the headline in
The Washington Post
proclaimed on May 10, 2017. The OpEd was written by Linda C. Fentiman, a Pace University law professor promoting criminal prosecution of mothers whose children are not vaccinated.
9
She alleged that state legislatures are accommodating "wealthy" mothers by allowing exemptions in
vaccine laws
, while poor pregnant women have "faced charges of criminal child abuse" and imprisonment for "failing to deliver adequate nutrition or delivering drugs via their breast milk."