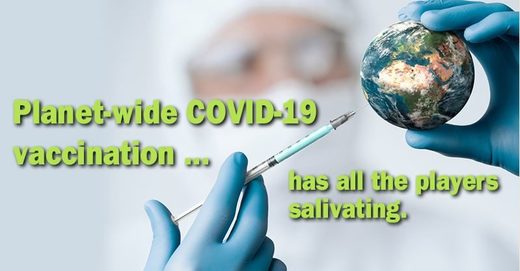 More than 100 companies are competing to be first in the race to get a COVID-19 vaccine to market. It's a race against time, not because the death rate is climbing but because it is falling - to the point where
there will soon be too few subjects to prove the effectiveness of the drug.
Pascal Soriot is chief executive of AstraZeneca, a British-Swedish pharmaceutical company that is challenging biotech company Moderna, the U.S. frontrunner in the race. Soriot
said on May 24th
, "The vaccine has to work and that's one question, and the other question is, even if it works, we have to be able to demonstrate it. We have to run as fast as possible before the disease disappears so we can demonstrate that the vaccine is effective."
COVID-19, like other coronaviruses, is expected to mutate at least every season,
raising serious questions
about claims that any vaccine will work.
A successful vaccine has
never been developed
for any of the many strains of coronaviruses, due to the nature of the virus itself; and vaccinated people can have a higher chance of serious illness and death when later exposed to another strain of the virus, a phenomenon known as "
virus interference
."
An earlier SARS vaccine never made it to market because the laboratory animals it was tested on
contracted more serious symptoms
on re-infection, and most of them died.
Researchers working with the AstraZeneca vaccine claimed success in preliminary studies because its lab monkeys all survived and formed antibodies to the virus, but data reported later showed that the animals
all became infected
when challenged, raising serious questions about the vaccine's effectiveness.