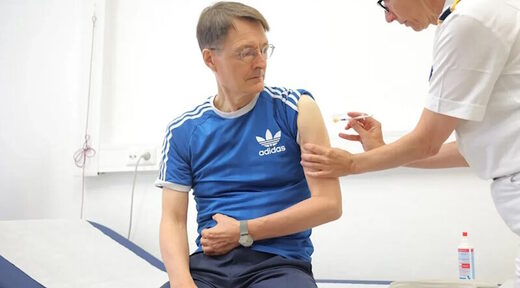 The latest Covid Juice release is for sale in Germany as of Monday, and Health Minister Karl Lauterbach was
first in line
. There's abundant evidence that he's not a great fan of vaccination; he got his third dose
in secret
, well after the rest of the vaccinators, and his claims to have gotten a fourth are subject to considerable doubt. No matter: he's learned from past mistakes, and while he's
denounced
the "exorbitant" profits of vaccine manufacturers and called vaccine injuries "dismaying", the Vaccinator Stand is the only booth still open at the Covid Circus, so Lauterbach has made himself the face of it. He turned 60 in February, so technically he counts as old and vulnerable enough to warrant a fifth (or a fourth) vaccination.
From
Die Zeit
:
[Lauterbach] has ruled out state virus measures despite rising infection statistics. Germany is "much better prepared", he said, and there is additionally "broad immunity" in the population. "We don't need any contact restrictions" ...

Voluntary masking is still advisable for those who are infected and cannot avoid social contacts, said Lars Schaade, the President of the Robert Koch Institute.

Lauterbach advises caution despite the lack of Government action. Corona is "not a cold", and permanent damage - for example from Long Covid - remains a possibility. Lauterbach therefore recommends vaccination above all for people who are particularly at risk. "People over 60 years of age and risk groups should get vaccinated, preferably against influenza as well," said the Minister.
In a separate piece timed to coincide with the rollout,
Die Zeit
called up a Bremen epidemiologist who says he expects masks to return to clinics and care homes, and who holds out hope for expanded vaccine
recommendations
in the course of the winter. I'm quite sure some care homes will once again impose inhumane mask requirements, but there's no chance vaccine regulators will urge wider uptake. We're in a long, slow process of deradicalisation, and that only runs in one direction.