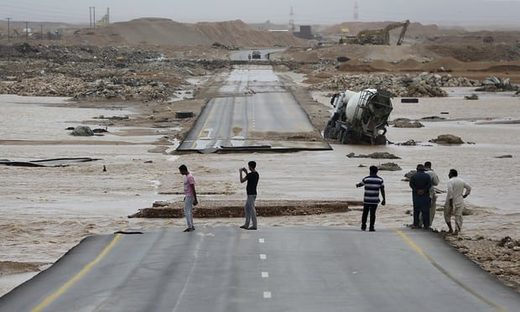 "Extremely severe" gusts have hammered the Arabian Peninsula, with three-years of rain dumped on a major Omani city in one day
A powerful cyclone has killed a 12-year-old girl and left at least nine other people dead as it battered parts of Oman and Yemen.
More than 30 people are missing on the Yemeni island of Socotra after it bore the brunt of Cyclone Mekunu, with gusts of up to 124mph reported.
Those missing include Yemeni, Indian and Sudanese nationals.
The 12-year-old girl is among three people who have been found dead in Oman, while seven people have been killed in Socotra, said officials from both affected countries.
A person died in Oman after a car drifted into a valley in the southern region of Dhofar in torrential rain, Royal Oman Police tweeted on Saturday.
More than 10 inches of rain has fallen in Oman's third largest city Salalah, with the

deluge amounting to three years of its typical rainfall in one day.
Power has been cut out in some areas of the city and branches and leaves now litter the streets.
Electrical workers have been trying to repair lines in the city while police and soldiers have been patrolling in 4x4s.
Authorities are reportedly anxious about flash flooding in the area's valleys and potential mudslides down nearby mountains.
Underpasses have been flooded as the cyclone drenched the city in water.
Authorities opened up schools to shelter people at risk from the torrential rains on Friday.
Roughly 600 people, mostly labourers, took refuge at the West Salalah School, with some sleeping on mattresses on the floors of classrooms.
Many holidaymakers fled the storm on Thursday night before the airport closed.
The Port of Salalah, a key gateway for the country, is also closed with its cranes secured against the pounding rain.
Socotra governor Ramzy Mahrous said one ship sank and two others ran aground as the cyclone hit on Thursday, initially saying authorities believed 17 people were missing and presumed dead.
Rageh Bakrit, the governor of the al-Mahra province, Yemen, posted on Twitter on Friday that strong winds had blown down houses and taken out communication lines and water services.
India's Meteorological Department said the storm packed maximum sustained winds of 105 - 111mph with gusts of up to 124mph.
It called the cyclone "extremely severe".
Authorities relocated over 230 families to sturdier buildings and other areas on Socotra, including those more inland and in the island's mountains, Yemeni security officials said.