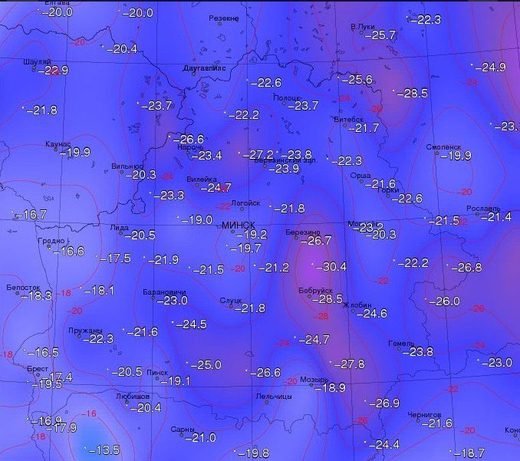 The temperature record of the current winter is beaten in Belarus - according to the data of the Republican Center for Hydrometeorology, Control of Radioactive Contamination and Environmental Monitoring in Klichev,
a temperature of -30.4 ° C was recorded last night.
Frosts came to Belarus in the middle of last week: in some places the night air temperatures approached the -30 ° C mark. The weather forecasters
explained the cooling by the so-called ultrapolar invasion
- the arrival of cold air masses to Belarus from the Arctic.
According to Hydromet, last night the coldest was in Klichev (Mogilev region) - there was recorded a drop in temperature to -30.4 ° C. It was in the Mogilev region that
five people died from frosts since the beginning of the year
. At the same time, according to weather forecasters,
the strongest frosts were observed on the night of February 27 in the Dnipro floodplain, where it was everywhere below -25 ° С.
Doctors recommend not to stay long on the street. Warm passers-by are assisted by mobile heating points of the Red Cross, where they serve hot tea and, if necessary, warm clothing.
Ice Age Now
reports
:
Anomalous cold persists in the center of European Russia.

During the past few days in parts of Belarus, the average temperature has been 14-16 degrees below normal.

New cold records for February 27 in Bobruisk (-28.5), in Zhitkovichi (-26.6), in Gomel (-23.8), and in the city of Klichev (-30.4°C).
http://hmn.ru/index.php?index=1&ts=180228142019



Record cold in Central Russia



In Rybinsk on February 27, the temperature dropped to -33.3°C, shattering the old record of -28.9°C set more than half a century ago, in 1963.

Other record holders included Vladimir (-26.5) and Tula (-26.4).

http://hmn.ru/index.php?index=1&ts=180228112028



Siberian frosts in the center of European Russia



Moscow running 10-12 degrees below normal. February 27 recorded the lowest temperature of the season (-21.7).

https://www.gismeteo.ru/news/klimat/26624-pogoda-v-moskve-nachalo-marta-budet-moroznym/

Thanks to Martin Siebert for these links