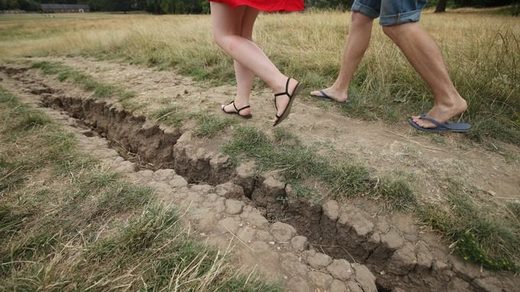 Britain may be enjoying the summer sunshine now - but the weather could soon have upsetting consequences for the nation's farmers, who are struggling to save both their crops and their animals.
Soaring temperatures have led to a heatwave bringing prolonged dry spells, meaning while Brits basked on the beaches, farmers were manually carrying water to cattle to try to keep them hydrated, on the hottest day of the year so far, on Monday.
Greg Cotterell, of Bank Top farm in Fenny Bentley, said to
The Derby Telegraph
the well he was forced to manually dug up for his cows is only producing a quarter of what they need.
The drastic way to get water to them was necessary because of the water shortage in seven villages in the area, he revealed.
Cattle are used to grazing on green grass with plenty of water but the drought conditions across the country are causing major problems for farmers
Andrew Webster, who runs a Jersey and Guernsey in nearby Ashbourne
requested a water tanker to help his cattle.
However, his request was refused by supplier Severn Trent.
Robert Martin, a dairy farmer with a 120-strong herd near Carlisle, told The Guardian there could be huge financial consequences for the farmers if milk yields fall as predicted.
Milk yields are likely to be down by about 15 to 20%
the farmer said, however, there is yet to be cost implications for consumers.
While an amber warning was released by the Met Office advising people to stay away from the sunshine, farms were growing increasingly worried, praying for rain.
In the past month
there have been a number of fires which have been caused by dry grass
and soaring temperatures.
The drought conditions are not only affecting cattle, but crops, too.
Many parts of South and Midlands have had virtually

no rainfall for almost two months -

far exceeding the definition of 'absolute drought,'

which is no measurable rainfall for 15 days.
This could mean 2018 has had the driest summer since 1766.
Comment:
We're witnessing similar
events
to those experienced during the Little Ice Age of the 18th century; d
rought
as well as epic
flooding
amidst overall global
cooling:
Little Ice Age
The NASA Earth Observatory notes three particularly cold intervals: one beginning about 1650, another about 1770, and the last in 1850, all separated by intervals of slight warming.
There may now be a disastrous harvest on the way, coupled with a national carrot shortage.
Experienced carrot farmer Rodger Hobson says that the harsh spring and hot summer in the UK is causing a huge carrot shortage
The bright orange vegetable which adorns the traditional roast dinner is in jeopardy this year because of the current heatwave, it is claimed.
Rodger Hobson says
t

here has been a 'perfect storm' of poor growing conditions

after the wintry 'Beast from the East' was followed by record smashing temperatures and what could be Britain's driest summer for 225 years.
The lack of British-grown carrots could last up until June 2019 and force supermarkets to import the vegetable from abroad, the 54-year-old farmer has revealed.
Mr Hobson runs Hobson Farming on the outskirts of York which has seen it harvest
30 per cent fewer carrots than last year
- which is likely to hit the Christmas dinner table hard.
Mr Hobson, chairman of the British Carrot Growers Association, said: 'It's the most serious I have ever seen it.
'We normally plant in March and April because the longer they are in the ground the more they grow.
'But
because of the snow we didn't get them planted until the middle of May and it's not just the water shortage - it's also the temperatures.
'The optimum is 16C to 19C. It's 25C and the carrots just wilt.
'For the first time in four years we have not harvested for two weeks
- you feel a bit useless.'
Other food which could be hit include barley.
Bisterne Estate in Ringwood, Hampshire, produces seed barley, milling wheat and biscuit rye.
This year, for the first time in 30 years, they began harvesting their 750 acres of arable land on June 28, two weeks earlier than normal.
Farm manager Martin Button says this is the earliest harvest there since 1976.
However, they are expecting a
significantly reduced yield
as the barley grain is much smaller than in a typical year, which was been attributed to the dry summer.
Mr Hobson, who has been farming carrots for 28 years, said the crisis will inevitably have an impact on prices as poor yields push up UK production costs and farmers are put under pressure.
Mr Hobson highlighted the Aldi Christmas marketing campaign, saying: 'Kevin the Carrot might be French this year - the only option will be bring carrots in from abroad.'
The UK traditionally grows about 97 per cent of its own carrots but Mr Hobson added: 'The British carrot growing industry is respected worldwide for its ability to produce fresh from the field carrots 52 weeks of the year.
'However, we have suffered the perfect storm of poor conditions this year. The damage is done, we are now halfway through the growing season.'
But it is not just carrot growers who have suffered -
pea and lettuce crops have also been hit by the unusual weather.
With much of Europe experiencing the same weather
, there could be a shortage of imported carrots too.
Mr Hobson warned consumers to expect price rises but urged them to continue to support British growers.
Hobson Farming is the UK's largest grower of carrots for the processing market producing more than 30,000 tonnes of carrots each year.
Britain consumes around 700,000 carrots a year, compared with 17 million consumed in China.