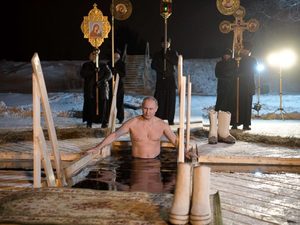 Epiphany
Cowardice asks the question: "Is it safe?" Expediency asks the question: "Is it politic?" Vanity asks the question: "Is it popular?" But conscience asks the question: "Is it right?" And there comes a time when one must take a position that is neither safe, nor politic, nor popular but one must take it because one's conscience tells one what is right.
- Martin Luther King, Jr.
Recent Comments
An Astrological Perspective: "Secret Society" Worked To Undermine Trump [Link]
---
The first crowdfunded murder.What a time to be alive.
---
"Trump can declassify anything he wants." [Link] My guess is that this will fizzle. They just need North Korea to fire off another missile (or...
---
This isn't new stuff. Big Pharma and the Medical Establishment are never interested in anything that might actually be a cure for cancer, or any...
---
Not a brain cell between all these worthless blackmail-able slobs.