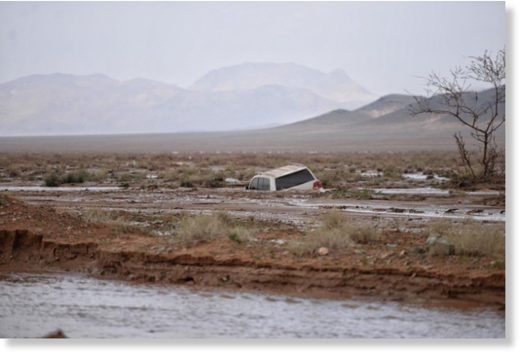 Further severe flooding has affected parts of Saudi Arabia, displacing around 100 people and leaving 2 dead.
Saudi Civil Defence report flooding in Madinah Region from 08 February, 2019. Around 111 people were rescued by Civil Defence teams, many of them from vehicles stranded in flooding wadis. Flooding in the region also caused damage to homes and 14 families (around 100 people) have been displaced.
Civil Defence reported on 08 February that 1 person had died and another was still missing after flooding in the Al-ʿUla governorate of the Madinah Region. Search and rescue operations for the missing person continued and Civil Defence reported late on 10 February that they had found a body near a flooded wadi.
Over the coming days further heavy rain is likely, particularly in central and eastern areas. As of 10 February, amber rainfall warnings (level 3 of 4) had been issued for Eastern Province and Riyadh Region.
Flooding affected wide areas of the country, in particular Tabuk, Jawf, Madinah and Makkah regions, in late January this year, prompting dozens of rescues. Saudi Civil Defence later reported that 12 people had died, including 10 in Tabuk and 1 in Madinah.
Social Media
مدني #المدينة_المنورة ينقذ ١١١ شخصاً ويؤوي ١٤ أسرة نتيجة الأمطار التي هطلت على المنطقة و ينتشل جثة مواطن يبلغ من العمر٦٥ عاماً متوفي بسيول وادي فضلا بمشاركة طيران الأمن نسأل الله له الرحمة و مازالت الفرق تبحث عن شخص مفقود في وادي فضلا غرب محافظة العلا. pic.twitter.com/L1h4QunVb0

— الدفاع المدني السعودي (@SaudiDCD) February 8, 2019