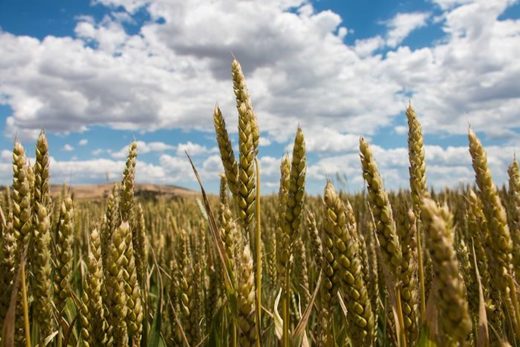 It was always going to be a big ask for the nation's grain crop to reach last year's record breaker, but extreme weather events across the country have guaranteed the harvest is well down on last year.
Some grain-growing regions have even reported a drop of more than 70 per cent on last year's harvest.
In the north of the country grain
farmers battled extreme dry, in NSW and Victoria
a late frost
and record rains damaged crops
, and WA made a comeback late in the season with much-needed rain.
Dry winter impacts yields
For Matthew Dart who farms at Merriwagga in southern NSW it's a harvest he was happy to see the back of.
"It was one of those years where any mistake in any given sequence you were penalised so heavily," he said.
"We had a June and September where
we recorded zero rain, which is unprecedented. Then we had 65 days of frost during winter, and during September we threw a 40-degree day in there just for fun."
Mr Dart said last year he was thinking about how to expand, but those plans were now on hold.
"Certainly the effects are being felt financially across the board, the numbers were too low not to be felt," he said.
Worst hit were Queensland and northern NSW, with the east coast's biggest grain company, Graincorp, recording a drop of nearly 70 per cent on last year's crop.
Peter Johnston, general manager of Graincorp, said they were impacted by a very dry late winter and spring period.
"That had a significant impact as far as production was concerned," he said.
"The only thing I'd say is no harvest is the same, you think you've got it worked out and yeah no harvest is ever the same."
A tale of two harvests
Mr Johnston said it was a tale of two harvests: the first came before
a
devastating November frost
in the south-east of the country, the second followed by
a deluge of rain that damaged both the volume of grain as well as quality.
"We saw a lot of deformed grain and the like," he said.
"Many farmers either elected to make a decision early and cut the crop for hay or be in a situation where they stored that grain on farm."
Despite the weather grain handlers in Victoria said they were back to average loads for the season.
The west Wimmera was the shining light, bucking the downward trend with a harvest on par with last year's record breaker, somehow missing the frost, drought and floods that wreaked havoc around them.
Marshall Rodder from Warrackneabeal, was one of those farmers who had a bumper crop.
"It's just luck of the gods I guess; you can be in the right place at the right time or the wrong time," he said.
"And we were in the right place and our crops were in the right position at the right time."
WA exceeds expectations
Western Australia's harvest started poorly with early predictions of a smaller-than-average crop.
But David Capper, general manager of CBH, the main grain handler in that state said they turned it around.
"I think the key thing around this season just gone is the marked turnaround," he said.
"Late rains and the soft finish in most areas of the state really did allow the crop to recover; 13.2 million tonnes of deliveries into the system was a great result for the year."
The difficulty now is selling Australian grain on the export market.
Brad Cullen from Emerald grain said high domestic prices and a strong Australian dollar were making it difficult to compete internationally.
"In [last year's] record harvest we saw record export pace; we saw vessel after vessel lined up and moving out of the country," he said.
"This year we're struggling to get wheat away; we still are too heavily priced."