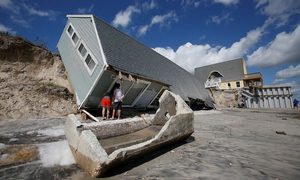 Lloyd's of London reported a £2bn loss after a year of natural disasters
Lloyd's of London
has posted its first loss in six years, after what the insurer described as
"one of the costliest years for natural catastrophes in the past decade".
The iconic insurance market reported an overall pre-tax loss of £2bn for last year, down from a profit of £2.1bn the year before, despite gross written premiums climbing to £33.6bn from £29.9bn.
Major claims in 2017 were more than double the cost of the previous year
, at £4.5bn, which led to an underwriting loss of £3.4bn, compared with profit of £500m in 2016.
This led the group's combined ratio to deteriorate to 114 per cent from 97.9 per cent - a combined ratio of less than 100 per cent means a firm is profitable.
A series of huge storms in the second half of 2017, including Hurricanes Harvey and Irma, left homes and businesses across the south coast of the US and the Caribbean destroyed.
Earthquakes in Mexico and wildfires in California added to the financial losses due to
natural disasters
, with one study putting the
total cost of global disasters last year at $306bn (£218bn).
"The market experienced an exceptionally difficult year in 2017, driven by challenging market conditions and a significant impact from natural catastrophes. These factors mean that for the first time in six years Lloyd's is reporting a loss," said Lloyd's chief executive Inga Beale.
"Lloyd's is here to support customers when it matters most, providing the financial support to enable businesses, governments and most importantly people to recover and rebuild their lives as quickly as possible, and I'm proud of the market's response."