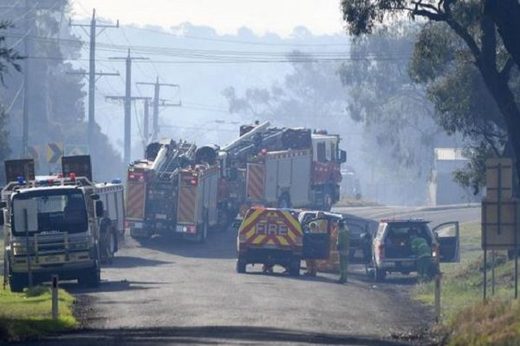 Emergency services in southeast
Australia
are warning people to stay indoors as a dangerous
heatwave
batters the country, with temperatures so high that the asphalt on some roads has been melting.
The
"catastrophic" hot weather
caused a 10km stretch of the Hume Highway, near the Victoria state capital
Melbourne
, to become soft and sticky, causing havoc for motorists trying to enter the city.
Victoria, South Australia and Tasmania have now declared a total fire ban after blazes on the outskirts of Melbourne raged out of control, destroying buildings and threatening lives.
It took a team of 300 firefighters, 50 trucks and three helicopters to tackle one fire in Victoria's Carrum Downs on Saturday, which threatened dozens of homes.
And another 49 bushfires are said to have been reported across the state - although many were small and easily extinguished - with 400 residencies losing power.
The state's emergency management commissioner, Craig Lapsley, said hot temperatures had combined with dry weather, strong winds and a wind change to create dangerous conditions.
"It's exactly what the forecast indicated and when we have fires running that's obviously a problem for us," he said.
Temperatures are expected to exceed 40°C in the southeast, with the country's Bureau of Meteorology forecasting highs of 45°C in Penrith, 44°C in Richmond and 43°C in Liverpool, with much of the area being rated as 'catastrophic' or 'code red' by emergency services.
Australia is prone to deadly blazes thanks to its combination of remote terrain, high summer temperatures and flammable eucalyptus bush.
In 2009, the worst bushfires on record destroyed thousands of homes in Victoria, killing 173 people and injuring 414 on a day the media dubbed "Black Saturday".
Australia's winter in 2017 - which runs from June to August - was the hottest ever recorded with the Bureau of Meteorology attributing it to a "long-term warming trend" mostly caused by climate change.
The South Australian County Fire Servce (CFS) issued an emergency warning for Sherwood, Brimbago, Lowan Vale, McCallum and Senior areas near the Victorian-South Australian border.
"If you are in this area you are in danger," a statement said. "There is a risk to your life and property.
"Take shelter inside a solid building. Do not leave or enter this area in a vehicle or on foot. It is too late to leave and the roads will not be safe."
NSW Health also released a statement saying emergency services were ready to respond to possible fatalities as a result of the weather.
"A NSW Health study published last month found extreme heatwaves lead to a more than ten percent increase in both deaths and ambulance callouts," said Dr Ben Scalley, director of environmental health at NSW Health.
"They put a lot of strain on the body and can cause dehydration, heat exhaustion and heat stroke."
And speaking to reporters, Ambulance Victoria's state health commander issued a warning for the state's residence to take the heat "seriously".
"This heat is a killer. It's going to be like a blast furnace tomorrow and you need to adjust what you do," he said.
In August 2017, bushfire conditions in the east of the country reached "near record levels" following what was believed to be the driest winter since 2002.
At the time, Andrew Watkins of the Bureau of Meteorology said: "We've certainly seen a shortening of our winters."