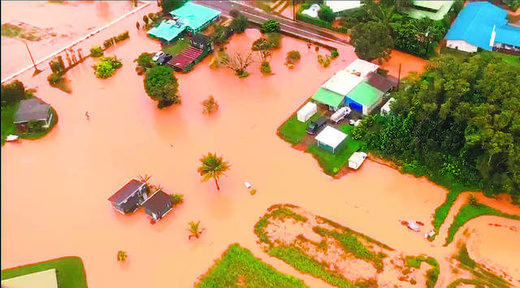 Torrential rainfall that led to catastrophic flooding last April on the Hawaiian island of Kauai set a national record for the most rainfall in a 24-hour period, weather officials say.
The National Climatic Extremes Committee has
verified the 49.7 inches recorded at Waipa Garden
in the 24-hour period ending at 12:45 p.m. April 15, the
Honolulu Star Advertiser
reported.
"After considering the observation and the various surrounding factors, the NCEC determined the Waipa Garden observation to be valid, and it now stands as
the 24-hour record precipitation for the United States
," the NCEC said in a memo.
Brian Donegan, a weather.com meteorologist, said, "The previous U.S. 24-hour rainfall record was 43 inches at Alvin, Texas, from July 25-26, 1979, during Tropical Storm Claudette."
"This also breaks the state 24-hour rainfall record for Hawaii, which was previously 38 inches at Kilauea on Jan. 24-25, 1956," Donegan added.
The
flooding last April forced hundreds to evacuate
their homes, destroyed houses, made roads impassable and washed out bridges. No injuries were reported.
The
National Climatic Extremes Committee
began
reviewing data from the Waipa Garden gauge
a couple of weeks after the flooding to determine whether the instrument was reliable enough to accept as a new U.S. record.
The committee's website says NCEC "was established in 1997 to assess the scientific merit of extreme meteorological/climatological events and provide a recommendation to NOAA management regarding the validity of related meteorological measurements."
Donegan said, "Hawaii is no stranger to heavy rainfall events. One location in Hawaii holds the records for the most rain in a single month and year:
Puu Kukui on the island of Maui
. In March 1942, 101 inches of rainfall was recorded at Puu Kukui, and in 1982, more than 58 feet of rain fell that year alone."
Waipa Garden's 49.7 inches of rainfall joins the
list of other extreme records
such as most snowfall in 24 hours - 75.8 inches on April 14-15, 1921, in Silver Lake, Colorado - and maximum temperature - 134 degrees on July 10, 1913, in Greenland Ranch, California.