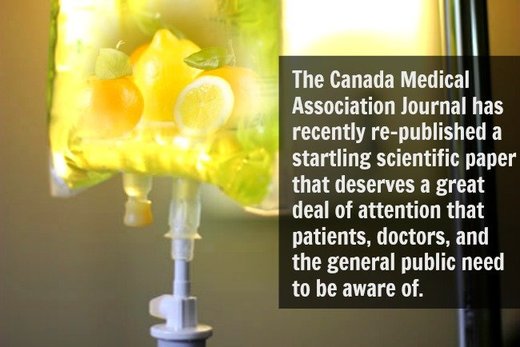 The
Canada Medical Association Journal
has recently re-published a startling scientific paper that deserves a great deal of attention that patients, doctors, and the general public need to be aware of.
Previously recorded in Riordan et al J Orthomol Med 1998: 13: 7203 and Riordan et al PR Health Sci J 2004: 23:115-8, the article, "
Intravenously Administered Vitamin C As Cancer Therapy: Three Cases,
" was recently re-published in the
Canada Medical Association Journal
(CMAJ) 2006 174:937-42.
This article may very well be a striking a blow to the pharmaceutical industry.
The article
confirms that the Mayo clinic, in dismissing Cameron-Pauling's work, used oral rather than IV vitamin C, never coming near the plasma concentrations of vitamin C that Cameron-Pauling work had.
The Mayo Clinic then used the "results" of their inadequate amount of vitamin C in their
non
-Cameron-Pauling protocol to undermine the use of vitamin C for treating cancer and put off this cheap, non-toxic effective treatment for cancer for decades.