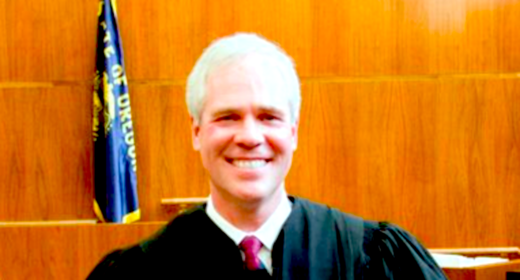 An Oregon judge who loves Hitler and hates just about everybody else, is under investigation by a state commission that just recommended his removal. They believe the judge's actions are so unethical they are likely even criminal in nature. The Oregon Commission on Judicial Fitness and Disability released a lengthy 48-page report that asked the state Supreme Court to remove Judge Vance Day from the bench, according to
The Oregonian
.
The nine-member panel said that Day had undermined public trust through many of his actions, such as refusing to marry same-sex couples, and even hanging a portrait of Adolf Hitler on the Marion County Courthouse's "Hall of Heroes" wall. He is also accused of communicating improperly with a felon as well as allowing another felon to illegally handle a firearm.
"Judge Day shows no outward sign of comprehending the extent or nature of his ethical violations," the commission explained. "His misconduct is of such a nature as to impugn his honesty and integrity."
Comment:
Sounds like a fine example of
a political psychopath
who's gone unnoticed until his behavioral violations have become egregious and undeniable.
The county's presiding judge said that Day must remove the portrait of the Nazi leader. The judge, however, said that the judge should not "go there because some very influential people in this town want it up," according to the commission's findings. Day was also found to have used taxpayer funds - twice - for the framing and mounting of the portrait of the Nazi leader.