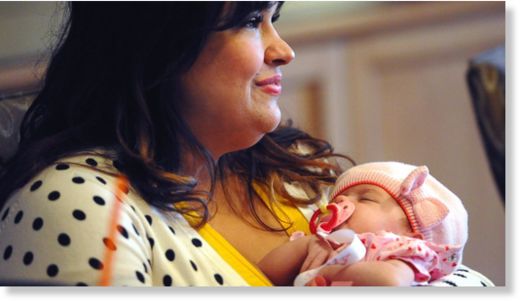 Doctors glanced up at the monitors to call the time of death for a patient whose heart hadn't beat in 45 minutes and who hadn't breathed in three hours.
Then, they saw it: a blip on the screen.
Ruby Graupera-Cassimiro was alive.
"She spontaneously resuscitated," Boca Raton Regional Hospital spokesman Thomas Chakurda told ABC News. "We had brought the family in. We had announced to them that we had done all we could."
Graupera-Cassimiro, 40, had gone to the hospital for a cesarean section on Sept. 23. The surgery was uneventful and the baby was healthy, but Graupera-Cassimiro started to experience shortness of breath and doctors had to call a code when she stopped breathing. They tried for three hours to revive her but it was no use. She had no pulse for 45 minutes. Then, her heart started beating again on its own.
Doctors think she had a rare condition called an amniotic fluid embolism, which is what happens when the amniotic fluid leaks into the blood stream, causes blood clots and leads to cardiac arrest, according to Mayo Clinic.
"It's normally diagnosed post mortem," Chakurda said.