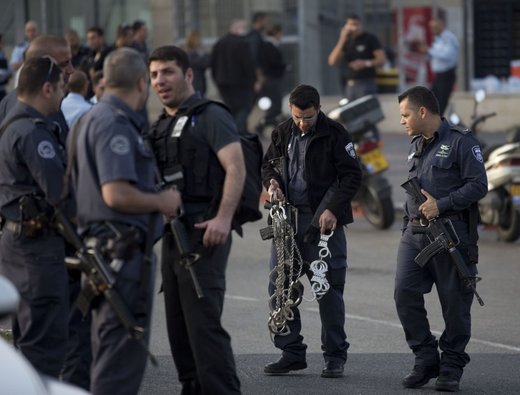 They're not even sure of the exact date of her arrest. They only remember that it was on a Wednesday nearly a month ago. (It was March 23.) They also had a hard time finding a photograph of S. Her mother rummaged around for a long time until she found a faded and wrinkled studio picture of the family, taken a few years ago. S. is in the front, sitting on a rocking horse, her hair pulled back in a ponytail. There's another shot of S. as a baby. That's all. Where's her room? It's here, the room we're sitting in: a living room with moldy walls that contains nothing apart from a few mattresses on the floor and two light-brown plastic chairs. At night, it's her room.
But now S. is not home. She is in Sharon Prison.
A 13-year-old girl, in the seventh grade, she is an inmate in an Israeli jail.
Last Thursday, S. was
sentenced to four-and-a-half months in prison and a fine of 7,000 shekels ($1,860).
If the fine is not paid - and for this family it's
an absolutely unimaginable amount
- S.'s mother, Amna Takatka, will be sent to jail for up to seven months: one month for every 1,000 unpaid shekels, for what her daughter did. That was the sentence handed down by military judge Lt. Col. Ami Navon.
Six weeks ago, we visited the family of another girl, D., a 12-year-old from Halhul, who in February was also sentenced to four-and-a-half months in prison. She too is in the seventh grade.