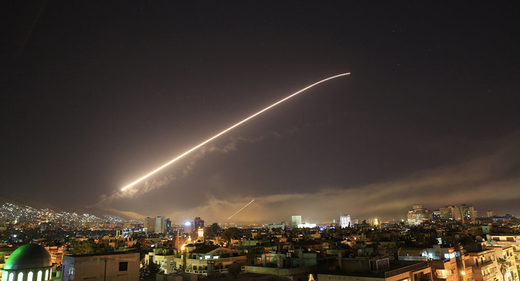 US President Donald Trump has approved military strikes in Syria in retaliation for the alleged chemical attack by the Assad government in Douma, near Damascus, last week. The UK and France joined the operation.
"A short time ago, I ordered the United States Armed Forces to launch precision strikes on targets associated with the chemical weapons capabilities of Syrian dictator Bashar al-Assad," Trump said in a televised address from the White House. He added that a combined military operation by the US, the UK and France is already underway in Syria.
The US-led intervention in Syria comes just hours before the UN's Organization for the Prohibition of Chemical Weapons (OPCW) experts were scheduled to visit the Damascus suburb of Douma on Saturday to determine whether chemical weapons had been used there last week.
Shortly after Trump's announcement, a statement from UK Prime Minister Theresa May said she had authorized British forces to conduct "coordinated and targeted strikes to degrade the Syrian regime's chemical weapons capability."
French President Emmanuel Macron confirmed that he ordered French forces to carry out a military action against Syria in coalition with the US and France. "The facts and the responsibility of the Syrian regime are beyond doubt," he said in a statement issued by his office, accusing Damascus of crossing "a red line" set by France in May of last year.
Macron said that France's response was "limited" and solely aimed at "the capabilities of the Syrian regime for the production and use of chemical weapons."
According to Chairman of the US Joint Chiefs of Staff Joseph Dunford,
the US did not notify Russian forces in Syria ahead of the strikes.
"We did not do any coordination with the Russians on the strikes, nor did we pre-notify them."
The Pentagon said the strikes were a "one time shot" to send a strong message to Syrian President Bashar Assad.
The combined
decision by the US and its allies to strike Syria comes just after Russian defense ministry spokesman Major-General Igor Konashenkov presented evidence claiming that last Saturday's alleged chemical attack in Douma was orchestrated.
The general also noted that London was "directly involved in the provocation."
The UK defense ministry stated that the strike was executed by four Royal Air Force Tornado GR4s, that launched Storm Shadow missiles at what the UK military claims was a former missile base, some 15 miles west of Homs. The ministry claimed that the Syrian government keeps a stockpile of chemical weapons precursors at the site, thus violating the Chemical Weapons Convention, of which it is a party.
Trump had a special message for Russia and Iran, who he said were "most responsible for supporting, equipping and financing" the Syrian government.
"What kind of a nation wants to be associated with the mass murderer of innocent men, women and children? The nations of the world can be judged by the friends they keep. No nation can succeed, in the long run, by promoting rogue states, brutal tyrants, and murderous dictators," Trump said.
He also blamed "Russia's failure" to keep the 2013 promise that Syria would get rid of its chemical weapons, which was negotiated in good faith with the US. Syria's compliance with the promise was certified by the Organization for the Prohibition of Chemical Weapons (OPCW) in 2014. The only remaining chemical weapons caches in Syria were in territories held by the Western-backed militants, such as Jaysh al-Islam (Army of Islam), who controlled Douma until their surrender on Monday.
Weeks ago, Russia warned that the militants in the east Ghouta enclave might stage a chemical weapons attack to win over Western public opinion.
The Russian
Foreign Ministry called
the reports of Saturday's chemical attack "fake news," while the Russian military investigating the area found no traces of chlorine or nerve agents, any eyewitnesses who could confirm their use or anyone who might have been affected.
An OPCW investigative mission was supposed to arrive in Douma on Saturday. It is unclear what will happen to the probe, in light of the US, UK and French bombing.
Comment:
On the heels of an official investigation into the supposed 'chemical weapons' attack, the three stooges decide to launch an attack on Syria while having zero evidence or proof.
US DoD: US, UK, French Strikes Aimed At 'Chemical Research Infrastructure'
- Sputnik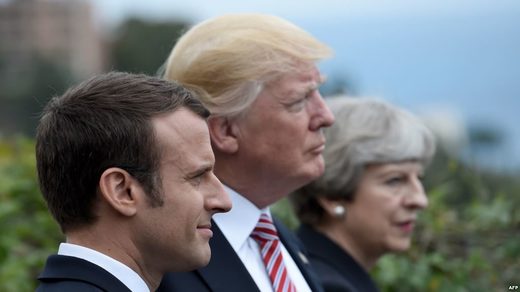 The operation, which started at 9 p.m. EST, was "specifically associated" with chemical research facilities and chemical storage sites, US Chairman of the Joint Chiefs of Staff Joe Dunford said Friday. The
"one-time strike"
has ended, the head of the Pentagon said.
Three main chemical sites were targeted, as well as one command center, according to the Joint Chiefs of Staff.
120 missiles were launched, about two times as many as last year when 59 Tomahawk missiles targeted the Shayrat air field.
The operations are now complete. Continued barrages will not take place, unless Assad uses chemical weapons again, Pentagon chief Jim Mattis said.
These targets were made with the goal of minimizing any impact on Russian forces, according to JCS.
The deconfliction line with Russia was "active" this week, and the US followed normal use of deconfliction lines with Russia, as is protocol for clearing the airspace, JCS said.

Comment: In other words, Russia knew about the coming strikes for a number of days and so did Syria. This shows the United States is boxed into a corner making YUGE claims, backed by meaningless strikes. It's all theater.


"This wave of strikes is over," Dunford said. When asked how many missiles were intercepted, Dunford said simply, "I don't know," before stating that US Central Command would have more details over the weekend.
Syrian Interceptors Take Off Against Incoming Missile Before Loud Boom
- Sputnik
New video reportedly taken from Syria shows air-defense interceptors taking flight after US President Donald Trump announced that the US, UK and France would strike Syria.
"God bless you, God bless you," a man can be heard saying, shortly after the interceptor seemed to collide with a missile, making a large boom sound.
"F*ck those American bastards," the man from the video says.
The Syrian Army reports shooting down 20 US, UK and French missiles.
When asked about the missiles, the Pentagon during a briefing that it could not comment on the reports.
US Violates All Int'l Norms, Russia Views This as Act of Aggression
- Sputnik
By conducting strikes on Syria, the US is violating all international norms, and Russia views this as an act of aggression, says Alexander Sherin, first deputy chairman of the State Duma Defense Committee, who compared US President Donald Trump to Adolf Hitler.
"The US President Donald Trump is not just a criminal for the whole world, he is Adolf Hitler number two," Sherin told Russian media.
Earlier this day Trump announced he ordered military strikes on Syria.
"[Trump] is a criminal - but that's not enough. One can call him Adolf Hitler of today, because look - he even chose the time, just like when Hitler attacked the USSR," Sherin told reporters.
"This is the second 'Belgrade,' this is a turning point,
the Russian Federation has received an act of aggression because, according to all international norms, this is a violation of all international rights. This is a declaration of war against a sovereign state, towards which a nuclear power is fulfilling its obligations of help and security
," Sherin said.
"Everything we've done, all the effort put into this, they try to multiply it all by zero and simply put Russia on its knees," he added.
The strike on Syria is an ill-thought and provocational step by the US that can lead to unpredictable consequences, said his colleague, Yuri Shvytkin a deputy chairman of the State Duma Defense Committee.
"
I think this is an ill-thought, half-baked, let's say, provocational, short-sighted, provocational step from US authorities' side that can lead to unpredictable consequences
," he told reporters.
The actions of France, UK and the US in Syria do not benefit building constructive relations with Moscow, he added.
Shvytkin said that an emergency session of UN General Assembly is required in order to condemn the actions of the US and its allies.
The US seeks to conduct a strike in Syria in order to disavow the victory of Russia and its partners, said Alexei Chepa, deputy chairman of State Duma Committee on International Relations.
The actions by the US and its allies will not go without consequences. All responsibility lies upon Washington, London and Paris, Russian Ambassador to US Anatoly Antonov said, commenting on the strike.
"The worst apprehensions have come true. Our warnings have been left unheard. A pre-designed scenario is being implemented. Again, we are being threatened. We warned that such actions will not be left without consequences," Antonov said on Friday. "All responsibility for them rests with Washington, London and Paris."
The Western nations have conducted a strike on a capital of a sovereign state that strives to survive in among terror aggression, Russian Foreign Ministry said in a statement.