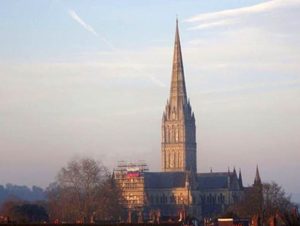 Salisbury Cathedral, 17 February 2019. Did you know? The spire is 123 meters tall, and famous throughout Europe...
When we talk about compassion, we talk in terms of being kind. But compassion is not so much being kind; it is being creative [enough] to wake a person up.
- Chogyam Trungpa Rinpoch
Recent Comments
I hope they were not separated from their mommies and daddies...
---
After following the machinations of empire for many decades I NEVER take anything at face value, no matter how mundane it might appear. The first...
---
With me, it's more about the fact that I can never 'background' music. My attention is drawn to it. If it's simplistic and repetitive, with a 2/4...
---
What 'Family' Runs California? (Brown/Pelosi/Newsom/Getty) 2782 Q !!mG7VJxZNCI 18 Feb 2019 - 4:19:58 AM 7D41C3B5-45E7-41C7-B5B4-DE94E77998DB.jpeg...
---
Monsanto has been hacking our DNA for years.