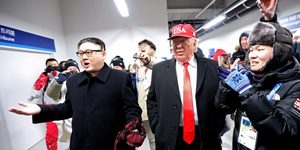 Did The Donald and Rocket Man secretly meet at the Winter Olympics in PyeongChang?
When a man knows he is to be hanged in a fortnight, it concentrates his mind wonderfully.
- Samuel Johnson
Recent Comments
"It seems reasonable to assume that if the number of school or mass casualty shootings in America were replaced by school or mass casualty knife...
---
Isn't this the very same tune that Warren Buffet (or maybe it was Soros?) was singing 15 or so years ago? I seem to remember he went on at some...
---
These tired old war-horse arguments are misleading to the extreme. Let's put aside the fact that for starters government exists in civilized...
---
Wrong and 'funny'. I keep coming back to the statement about the key. This guy(some analyst) thought that the kid had bought the fist ever lock...
---
Lol, you guys have swung so hard to the Trump that you're blaming the US elites (left, right & inbetween's) historical & rapacious hunger...