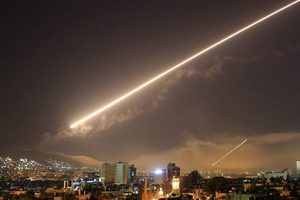 Syrian air defense systems protecting Damascus - the oldest continuously-inhabited city on Earth - from Western airstrikes, 14 April 2018
All truths are easy to understand once they are discovered; the point is to discover them.
- Galileo Galilei
Recent Comments
I assume Russell was not black ... would he still have been guilty if he was
---
This is pre-war game Western governments are playing on those opposed to their foolish foreign policies. They are confusing government with...
---
other than the laudable purpose of saving Libyan civilians from likely attacks by Qaddafi's regime, the Libyan operation had no long-lasting...
---
Reminds me of Monsanto. Rather than spending all their money on showcasing their own evidence, they go after the evidence against their cause....
---
Is not also interesting that those close to the Incident die questioning the official Narrative. Fri, 10 Feb 2017 19:12 UTC [Link]