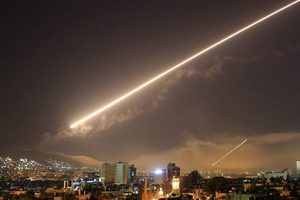 Syrian air defense systems protecting Damascus - the oldest continuously-inhabited city on Earth - from Western airstrikes, 14 April 2018
All truths are easy to understand once they are discovered; the point is to discover them.
- Galileo Galilei
Recent Comments
Fake. If this were real someone would have said something like ''look over there'' or something like that. Nobody is paying the slightest bit of...
---
Just to spell this out somewhat, there are "Fusion Centers" in all large cities in the US and, while officially these are sponsored and...
---
The one I saw exactly like this one was over the ocean just off the coast, and far too high to be a kite.
---
On a spiritual level, time doesn't exist. On that level of reality, there is emergence and development, not time. Spiritual beings can relate to...
---
So, here bosses should have gotten thirty days, she should have gotten 364 days. If you look at the damage done to others, (which should always be...