About Amazed by the Lunacy
"In the end, we return to the question, just how much do you love truth? Do you really love truth or are you just curious? Do you love it enough to rebuild your understanding to conform to a reality that doesn't fit your current beliefs, and doesn't feel 120% happy? Do you love truth enough to continue seeking even when it hurts, when it reveals aspects of yourself (or human society, or the universe) that are shocking, complex and disturbing, or humbling, glorious and amazing - or even, when truth is far beyond human mind itself? Just how much do we love truth? It's a good question to ask ourselves, I think."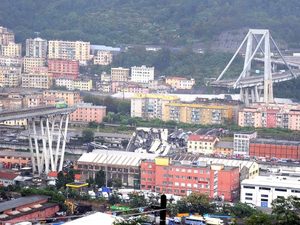 14 August 2018: Morandi Bridge in Genoa, Italy, collapses during a storm, killing 35 people
Shared pain is lessened; shared joy, increased - thus do we refute entropy.
- Spider Robinson
Recent Comments
OK, so there are four contributors, Blisslife, BabaJaiy, Agnosco and prehistoric, all proselytising in favour of this DMT garbage, various of whom...
---
yes, cuomo. A servant of ALL people not just the ones with whom you agree.
---
Thank you for sharing this historical perspective, Leanne Rojik.
---
"South African winemaker concerned land seizures could be 'disastrous' for industry & economy." "There is no historic 'land ownership' that...
---
Beautifully stated!! It's so wonderful to see people talking about real psychological progress in such warm and compassionate terms. Herein lies...