About Amazed by the Lunacy
"In the end, we return to the question, just how much do you love truth? Do you really love truth or are you just curious? Do you love it enough to rebuild your understanding to conform to a reality that doesn't fit your current beliefs, and doesn't feel 120% happy? Do you love truth enough to continue seeking even when it hurts, when it reveals aspects of yourself (or human society, or the universe) that are shocking, complex and disturbing, or humbling, glorious and amazing - or even, when truth is far beyond human mind itself? Just how much do we love truth? It's a good question to ask ourselves, I think."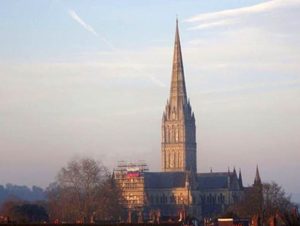 Salisbury Cathedral, 17 February 2019. Did you know? The spire is 123 meters tall, and famous throughout Europe...
When men yield up the privilege of thinking, the last shadow of Liberty quits the horizon.
- Thomas Paine
Recent Comments
All they need is a false flag attack at some high publicity event in Columbia - e.g. Branson's concert - blame it on Maduro / Venezuela NATO will...
---
US has been running robots 'anchors' for years now.
---
To hate the abuse of power is indiscriminate. Jewish power may simply be that which uses the Jewish identity as a cover story or 'identity...
---
Merkel Draws the Line Against Trump [Link] #astrology
---
Collusion is so last week - Obstruction is the new narrative