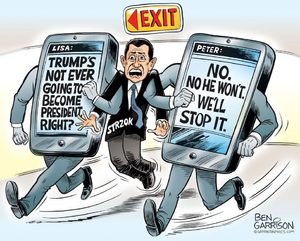 Strzok has left the building
Mystery creates wonder, and wonder is the basis for man's desire to understand. Who knows what mysteries will be solved in our lifetime, and what new riddles will become the challenge of the new generations.
- John Keel
Recent Comments
I thought non-administrative employees getting a severance package was a long since extinct practice in the U.S business world. Last thing I...
---
" Comment: Hope the door slapped them on the way out. This kerfuffle was all about and likely dictated by Israel." Would this not defeat the...
---
[Link] "The Fourth Phase of Water," by Gerald Pollock, is a fascinating book that gets into great detail about experimentation and implications of...
---
the us is fcuking up as usual. better check out non-us things [Link]
---
HAHA I'd like to see them remake All in the Family. To look up old episodes on youtube would set off the PC police alarm in a hail of flashes and...