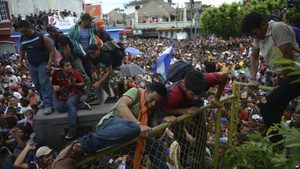 Destination, USA: Thousands of Honduran migrants rush across the border toward Mexico, in Tecun Uman, Guatemala, 21 October 2018
The only thing necessary for the triumph of evil is for good men to do nothing.
- Edmund Burke
Recent Comments
"The Democrats will go into meltdown, should they fail, again." Time heals all wounds, so they say. It would be nice to think that an extended...
---
I have dozens of relatives from Trinidad.............and it is a well known fact that the Island has been sinking for years.
---
The distressing part of this whole story is that this was on A FARM in HANFORD. Yes, that Hanford. I certainly hope that this farm's goods are...
---
Drones dropping chemicals would teach future caravans a lesson. (The chemicals don't have to be fatal, just cause things like rashes, eye...
---
I'm dying to see the numbers on this campaign, if only to work out if YouTube's view count is an accurate reflection of the actual number of...