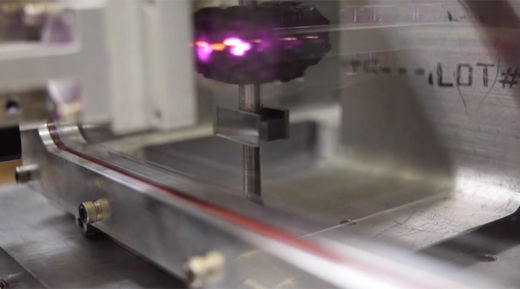 Researchers have honed laser technology to be able to slow, stop, and reverse the rotation of an asteroid-like target in a simulated space environment. The findings could potentially help deflect Earth-bound asteroids in the event of a major-impact threat.Tags
Education
,
SciTech
,
Science
,
Space
The
DE-STAR
(Directed Energy System for Targeting of Asteroids and exploRation) can, among other uses, stop the rotation of a spinning asteroid, according to small-scale, graphic demonstrations by the Experimental Cosmology Group, led by UC Santa Barbara physicist Philip Lubin and Gary B. Hughes, a researcher and professor at California Polytechnic State University-San Luis Obispo.
In order to simulate the laser's deflection capabilities, researchers used basalt, which is composed of materials similar to those of an asteroid. The team directed a laser at the basalt until it began to turn from a mineral to a gas. As the "asteroid" lost mass, it became a propellant.
"What happens is a process called sublimation or vaporization, which turns a solid or liquid into a gas,"
said
Travis Brashears, a student at the University of California-Berkeley involved in the research. "That gas causes a plume cloud — mass ejection — which generates an opposite and equal reaction or thrust — and that's what we measure."
Magnets were used to spin the basalt, simulating a rotating asteroid. The laser system was also used to slow the rotation of the target.