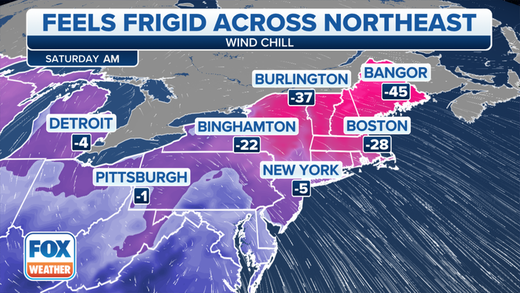 Wind chill warnings and advisories are active in upstate New York, northern Pennsylvania, far north New Jersey and all of New England
New England is preparing for some of the coldest air it's seen in five years as a "dangerous" polar vortex quickly moves into the Upper Midwest and Northeast, bringing sub-zero wind chills and plunging temperatures,
FOX Weather reports.
Places like Chicago and Des Moines, Iowa, will be the first to experience the bitter cold Friday morning as morning temperatures are forecast to be in the negative single digits. Other areas in the Midwest, like Northern Minnesota, could even see temps in the negative 20s or 30s.
The highs across the Midwest will struggle to make it out of the single digits Friday afternoon.
Wind chills are expected to be even worse, with feels-like temperatures dropping all the way to negative 50 in some areas. FOX Weather reports frostbite and hypothermia can form on exposed skin in as little as 10 minutes in this type of "dangerous cold."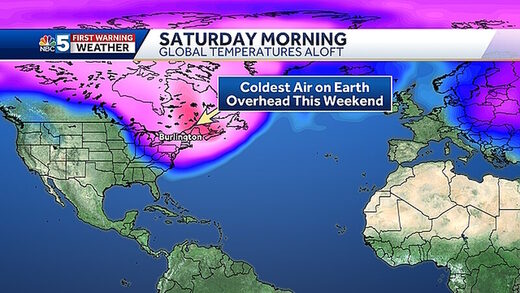 Wind Chill Warnings and Advisories have been issued for upstate New York, northern Pennsylvania, far northern New Jersey and all of New England in anticipation of the weather.
In the Northeast, a powerful arctic front will bring quick changes to the region as temperatures will fall from the 20s and 30s range to single digits above and below zero throughout the day.
By Friday afternoon, places like New York City may see wind chills between negative 10 and negative 20.
The worst of the cold will take place Saturday morning as temperatures drop to between negative 20 and the single digits above and below zero across the Northeast, according to the FOX Forecast Center. Record-low temperatures for Feb. 4 are possible in Boston; Providence, Rhode Island; and Bridgeport, Connecticut.
Boston could see wind chills near 30 below zero, while Portland, Maine, could experience wind chills into the negative 40s.
Multiple cities across the Northeast will experience the coldest temperatures in at least five years. (FOX Weather)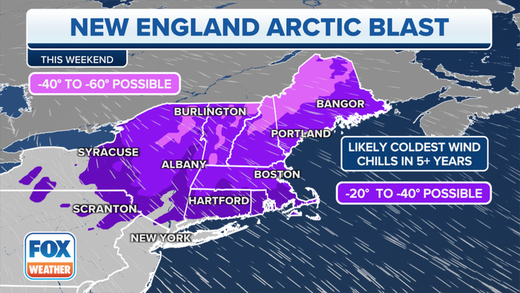 The FOX Forecast Center said the bitter cold will be caused by a southward plunge of a piece, or lobe, of the polar vortex - a persistent area of low pressure located in the high latitudes of the Northern Hemisphere.
The polar vortex is surrounded by a band of strong jet stream winds circulating the North Pole, which typically keeps the arctic air near the polar regions.
"We are going to end up getting a huge dip in the jet stream that is going to end up unlocking all of that cold air from Canada," FOX Weather meteorologist
Jason Frazer
said. "This is going to be dangerous weather."
Snow squalls also have the potential to develop as the cold front moves northeast. Anyone caught in one will experience a rapid drop in visibility - perhaps to less than a quarter-mile - 35-plus-mph winds and a quick half-inch to an inch of snow, FOX Weather warned.
In northern Maine, conditions will be favorable for a "ground blizzard" to develop as gusty winds will create blowing and drifting snow.
The FOX Forecast Center said the most dangerous areas of blowing snow
in northern Maine
will be focused across Aroostook County and far northern Penobscot County, including areas such as Houlton and Millinocket. Conditions there will be life-threatening to anyone caught outside as whiteout conditions will be combined with wind chills that might approach negative 60 degrees.
Though the frigid weather will wreak havoc throughout the region during the early weekend, it will be short-lived as temperatures are forecast to rise back up to the mid 40s on Sunday.