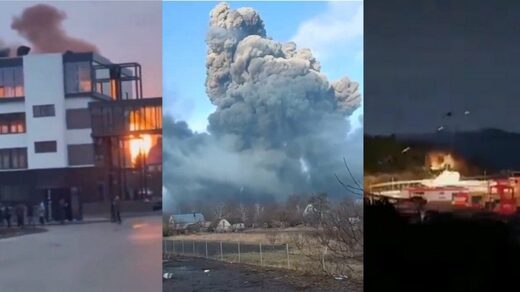 Russia has taken out Ukraine's air defenses and airforce with a series of precision attacks
, the country's Defense Ministry has said in a statement,
after airports and runways across the country were rocked by explosions
.
Officials also claimed on Thursday morning that
Ukrainian border guards are not resisting advancing Russian troops
, who have moved in after President Vladimir
Putin signed an order to begin a
"special operation"
in the Donbass
. At the same time, officials denied claims made by Kiev's defense chiefs that Russia had lost at least one military plane over the country during the offensive.
In an earlier statement, Moscow reported that it was
carrying out strikes at elements of Ukraine's military infrastructure
.
Russia launched the offensive against Ukraine on Thursday morning on the orders of President Vladimir Putin, who said
the goal of the operation was to demilitarize and
"de-Nazify"
Ukraine
.
The Russian leader claimed military action was necessary to stop Ukrainian attacks on the two breakaway regions of Donetsk and Lugansk, which Moscow recognized as sovereign states on Monday. He claimed Russia could come under attack by Ukrainian radicals, unless their influence in the country is diminished, and accused Western nations of arming Kiev against Russia.

Comment: So it's 'pre-emptive war' - only here, it's justified. No 'sexed-up Downing Street dossiers' needed...


Putin announces 'special operation' in Donbass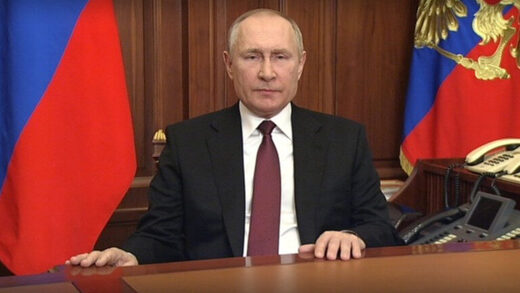 Russian President Vladimir Putin has announced that he ordered his country's military to conduct a special operation in the Donbass region after the leaders of the breakaway republics asked Moscow for military assistance in response to what they claim is an increase in
"Ukrainian aggression."
"Circumstances require us to take decisive and immediate action,"
the order reads. "
The People's Republics of Donbass turned to Russia with a request for help. In this regard, in accordance with Article 51, part 7 of the UN Charter, with the sanction of the Federation Council and in pursuance of the friendship treaties ratified by the Federal Assembly and mutual assistance with the Donetsk and Lugansk People's Republics, I have decided to conduct a special military operation,"
Putin stated.
At the same time, in an address to the public, the Russian president said he wanted to
"demilitarize"
and
"de-Nazify"
Ukraine. According to him,
"we have no plans to occupy Ukrainian territory."
Within moments of the speech, a series of explosions were reported in cities across Ukraine, with CNN, CBC and a number of Ukrainian media outlets reporting a blast in the capital, Kiev
.
In a statement, US President Joe Biden said that
"the prayers of the world are with the people of Ukraine tonight as they suffer an unprovoked and unjustified attack by the Russian military forces."
The decision comes days after Moscow recognized the independence of the Donetsk and Lugansk breakaway republics in the Donbass, alleging Kiev had not lived up to its obligations under the Minsk agreements struck in 2014 and 2015 to resolve conflict between separatists and the Ukrainian government.
Officials later authorized what they described as a "peacekeeping operation" in the region. Western leaders for months had predicted a looming incursion, claiming Russia has amassed troops near its border with Ukraine and in neighboring Belarus, where Moscow has conducted joint drills in recent weeks.
Russia has so far denied plans for an attack, however, and maintains its actions in the Donbass will be defensive in nature. The US and its European partners have already imposed sanctions on a series of Russian financial institutions, officials and lawmakers following the recognition of the break-away states, vowing to bring more penalties should Moscow
"further invade
" Ukraine.