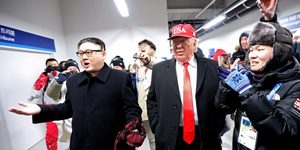 Did The Donald and Rocket Man secretly meet at the Winter Olympics in PyeongChang?
When a man knows he is to be hanged in a fortnight, it concentrates his mind wonderfully.
- Samuel Johnson
Recent Comments
James Woolsey, like many other CIA directors, is a member of the Rockefeller CFR along with Bill Clinton and George Soros. See lists in the CFR...
---
Im in NC and we have Pillbillies everywhere. A majority of them got started from just abit of back pain. Up until a handful of months ago, you...
---
Wow, that was good. I'd hadn't really paid him much attention, that just changed . . . This bit was interesting: People feel guilty about the...
---
I dunno, in Soviet Russia we used to eat plenty of grains(kasha), black and white bread... with plenty of butter of course... obesity was not an...
---
Good article. If one of the premises is correct, that is to drive a wedge between people, I hope it does not lead to a 'false flag' op, i.e. alt...