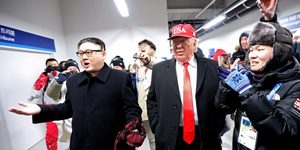 Did The Donald and Rocket Man secretly meet at the Winter Olympics in PyeongChang?
When a man knows he is to be hanged in a fortnight, it concentrates his mind wonderfully.
- Samuel Johnson
Recent Comments
These neocon trolls might as well just jeer "nyah na, na nyah nah."
---
What's pissing me off about this "epedemic" is that they are lumping everyone together and saying "bad". Heroin users, who OD more than anyone...
---
Apparently SoTT has abandoned grammar entirely and is now writing its Comments in sentence fragments, without nouns, such as, "What's so afraid...
---
What about getting magnesium from mineral water?
---
Here is a conspiracy which Delamer Duverus told us. He said the Mormon Hierarchy gained control of the FBI in 1953. We had never heard this...