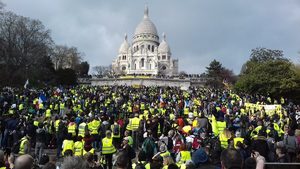 Acte XIX: Sacré-Coeur, Paris, 23 March 2019
Confucius has no interest in falsehood; he did not pretend to be prophet; he claimed no inspiration; he taught no new religion; he used no delusions; flattered not the emperor under whom he lived.
- Voltaire
Recent Comments
Statistics can be made to prove anything... 86-percent of all people know that.
---
Keep Sanctioning every country into the hands of the resolute BRICS nations, you glorious idiots.
---
Not authority - paid corporate banking rulership.
---
CNN is total lying propaganda garbage that only works to spew utter nonsense to polarize the uneducated masses into supporting corporate banker...
---
This is further confirmation of just how deep in debt is trump to Jewish Bankers; Trump must continue to suck on the Jewish Tit otherwise they...