About Scott
Name: Scott Ogrin

Scottie is an electrical and computer engineer with a BSEE and MSEE. After working in the automotive and telecom industries in hardware and testing, he ended up as a software engineer.
He joined SOTT in 2003 as an editor, and is currently the webmaster and Chief Engineer for Sott.net.
In his spare time, he works on his popular techie blog.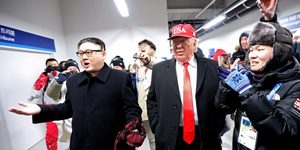 Did The Donald and Rocket Man secretly meet at the Winter Olympics in PyeongChang?
The West won the world not by the superiority of its ideas or values or religion (to which few members of other civilizations were converted) but rather by its superiority in applying organized violence. Westerners often forget this fact; non-Westerners never do.
- Samuel P. Huntington
Recent Comments
Linux can solve this problem. If recyclers could market and sell a truely FREE OS and get people used to it and using it over the bloatware, then...
---
Microsoft forced computer makers to preload Windows on all of the machines they sold, so it completely deserves this problem.
---
All is distraction and jockeying for control as the real threat to humanity unfolds: GRAND SOLAR MINIMA and ICE AGE. The Age of Deception is...
---
Which magnesium is ideal for a daily supplement? Magnesium Oxide?
---
You can also buy/make magibicarb water