About Scott
Name: Scott Ogrin

Scottie is an electrical and computer engineer with a BSEE and MSEE. After working in the automotive and telecom industries in hardware and testing, he ended up as a software engineer.
He joined SOTT in 2003 as an editor, and is currently the webmaster and Chief Engineer for Sott.net.
In his spare time, he works on his popular techie blog.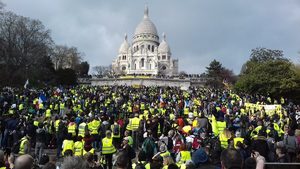 Acte XIX: Sacré-Coeur, Paris, 23 March 2019
Confucius has no interest in falsehood; he did not pretend to be prophet; he claimed no inspiration; he taught no new religion; he used no delusions; flattered not the emperor under whom he lived.
- Voltaire
Recent Comments
"What Russia was aiming for is what Russia is always aiming for: to sow discord in American society and make it more difficult for the American...
---
Yeah. Invented heroin. Nice....[Link]
---
Bayer existed long before the Nazis. And Monsanto, majority owned by the US government, was "sold" to the German vassall state the US still...
---
The police and military are on the wrong side of the law. Fucking traitors!
---
Why didn't he just plead the 5th? Yes I said he because that what his genes say he is. I'm not buying into this backwards transgender horse shit.