About Scott
Name: Scott Ogrin

Scottie is an electrical and computer engineer with a BSEE and MSEE. After working in the automotive and telecom industries in hardware and testing, he ended up as a software engineer.
He joined SOTT in 2003 as an editor, and is currently the webmaster and Chief Engineer for Sott.net.
In his spare time, he works on his popular techie blog.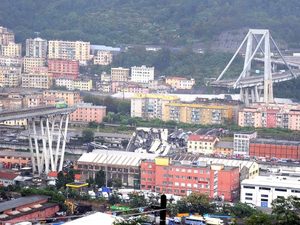 14 August 2018: Morandi Bridge in Genoa, Italy, collapses during a storm, killing 35 people
If the doors of perception were cleansed, everything would appear to man as it is, Infinite. For man has closed himself up, till he sees all things thro' narrow chinks of his cavern.

'The Marriage of Heaven and Hell'
- William Blake
Recent Comments
When you believe one group deserves preferential treatment you will behave unethically towards others. The way to US behaves towards Israel shows...
---
"The world's dumbest and/or most deceitful people have always been those who equate 'I defend X's right to speak' with 'I defend X and their...
---
R.I.P. Aretha Franklin....[Link]
---
The head of Russia's space research corporation has spoken about its latest planned projects and noted that cooperation with the United States...
---
Perhaps Turkey is aligning with the SCO, and this is a prelude to an exit from nato? Erdogan, whether the MO, and motivation is right or wrong,...