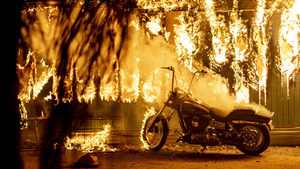 The Woolsey Fire in Malibu, California, November 10, 2018
For the great enemy of the truth is very often not the lie - deliberate, contrived and dishonest - but the myth - persistent, persuasive, and unrealistic. Too often we hold fast to the clichés of our forebears. We subject all facts to a prefabricated set of interpretations. We enjoy the comfort of opinion without the discomfort of thought.
- John Fitzgerald Kennedy
Recent Comments
Freud came from the same Cuckoo nest as the father of the vaccine, Edward Jenner . [Link] A certifiable creep! For more on his origin story, take...
---
@lsjarvi Everyone is a green pasture for the dark energies if one is not living fully in the present moment. Vigilance and association. Dark...
---
mmmmm, think that rain belongs somewhere else. maybe Australia, maybe Somalia, is it not strange as a kid i and even an adult i can never remember...
---
People are generally unwilling to consider that discarnate entities can attach themselves to people whose emotional weaknesses give a demonic...
---
Publishing secrets is not just a matter of constitutional privilege. Evidence that has been unlawfully obtained is usually admissible in an...