About Joe
Name: Joe Quinn

An established web-based essayist and print author, Quinn is the co-host of the 'News Real' radio show on the Sott Radio Network and has been writing incisive editorials for Sott.net for over 10 years. His articles have appeared on many news sites and he has been interviewed numerous times by Sputnik News and Press TV. His articles can also be found on his personal blog JoeQuinn.net.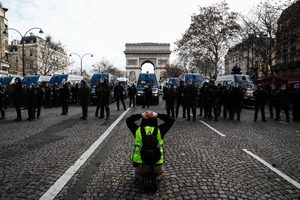 L'elite contre le peuple
Few people have the imagination for reality.
- Johann Wolfgang von Goethe
Recent Comments
So she already knows they are all guilty. She is on a seek and destroy.
---
The processes required to store potatoes properly. Within the storage facility, potatoes undergo the following processes: Drying Cooling or...
---
Red Dwarf did an episode about white holes. The time it was spewing affected the crew, to great comedic effect. Matter/energy is never created or...
---
I've met standard Leftists, (not even Far Left), who along with their morning coffee, pep up their energy levels with daily endorphin-enriched...
---
A recipe for disaster. [Link]