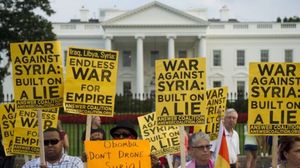 The London-based NGO, Syrian Observatory for Human Rights, claimed recently that the number of dead from the civil war in Syria will soon hit the 200,000 mark. At the time we did the following radio show about what's really going on in Syria, the mainstream media was reporting that the Obama administration was "considering sending" military aid to the 'rebels'.
What SOTT.net has been reporting since they launched this dirty war in 2011 - that foreign terrorists have been fully supported by Western governments since the very beginning - has since been confirmed in the mainstream media. In the meantime, they've also tried to pin false-flag chemical weapons attacks on Bashar al-Assad and, most recently, just as peace talks get underway in Geneva, claim that "thousands" have been tortured to death by the Syrian 'regime'.
Have a listen as SOTT.net editors took a look behind-the-scenes at the real actors in the Syrian conflict and how the massive bloodshed there fits into the ever-changing narrative of the West's bogus 'war on terror'. As part of examining the Western government's real objectives in Syria, we also considered the history of "al-Qaeda" and the role of religion as it is used by psychopathic politicians to justify imperial expansion and domination of other nations.
Running Time:
02:20:00
Download:
MP3